Bow Island hands out small business awards
Posted on October 23, 2018 by 40 Mile Commentator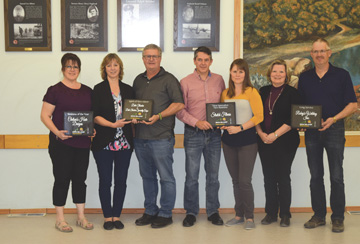 Commentator/Courier Photo by Justin Seward This year's small business Award Winners: Left: Business of the Year: Chelsea Geldreich of Chelsea's Hair Design, Spirit of Bow Island: Dale and Natalie Thacker of Dale Thacker's Speciality Crops Ltd., Most Innovative New Business: The Neustaeters of Stretch Fitness and Long Service Award: Reg and Dorthy of Robey's Welding Inc.
By Justin Seward
Commentator/Courier
Burdett and Bow Island Chamber of Commerce president Bernice DeLeenheer emceed her last small business awards banquet on Friday night at the Bow Island Legion.
She said after five years in the position that she wants to gear down for retirement, but will still be in the role of past president when the AGM comes in February.
There were four awards handed out on the evening.
The Most Innovative New Business: Jake and Lisa Neustaeter of Stretch Fitness. The award goes to a business who has been operating for a minimum of one year and a maximum of three years, is active in promoting the town and community and showing strong business ethic.
Stretch Fitness obtained their business license in 2014 and were able to bring life back to a downtown building that had been empty for quite awhile . The Neustaeters began with a 24 hour access gym and since have added new classes including yoga. Once the gym was opened, the rest of the building was open for space to allow for other businesses to move in. It was in 2016 that a contest was ran to name the building as it had become an interest in the community. The winner was "Pinto Plaza." The remake of the downtown building has been an important part of the community.
Long Service Award: Robey's Welding Inc. The Long Service Award goes to the business that has been ran locally for a minimum of 10 years, contributed to local developments and have displayed good business ethics. Robey's Welding Inc. has been in Bow Island for 22 years and in their first year they operated as a mobile welding business before purchasing their own building on Sixth Street East. They currently operate out of two buildings that back on to each other. Currently, they are getting business from as far as northern Alberta and the United States.
Spirit of Bow Island: Dale Thacker Speciality Crops Ltd. This award goes to the business that contributes to the town and community through time, money or resources, being active in the community, promoting the area and showing strong business ethics.
Thacker can always be seen in the community volunteering his time for various projects and causes. Both Dale and his wife are avid golfers and devote their time to the Bow Island Golf Course for work parties, as executives and fundraisers. Since 2002, Thacker has been involved with Rangeland Helicopters and was a very active member in getting HALO started in 2006. In 2014 he became the chairman.
"Your in a community of a bunch of volunteers," said Thacker.
"It's pretty special to be singled out and recognized because it doesn't matter where you go, people know about Bow Island. Volunteers in Bow Island is big. It kind of feeds on itself too.
"I'm just one volunteer. This town is full of them. You go to events it's always the same people."
Business of the Year: Chelsea's Hair Design: The last award went to Chelsea Geldreich who is a business person that has been successful and has offered exemplary customer service, has an individual/ family business, contributed to local employment, demonstrated high business ethics and has had a business for three years or more.
"I'm very humbled and honoured," said Geldreich.
"(I am) very blessed to be in such a good community that supports businesses and grateful for my great co-workers in the past and grateful I found a profession that I love so much."
She has been cutting hair for 34 years, with 28 of those being in the Bean Capital of the West. After being in Medicine Hat for six years, she returned to Bow Island and ran the business out of the basement of her home on Second Avenue until 1999. It was then she rented a chair from Daria's Hair Depot Downtown. Then as more recent as three years ago she bought the hair depot and Daria rents a chair from her.
Geldreich employs summer students for their work experience period as well as doing hair for the Grade 11 play.