Hamilton looking forward to carrying on the county's momentum
Posted on October 23, 2018 by 40 Mile Commentator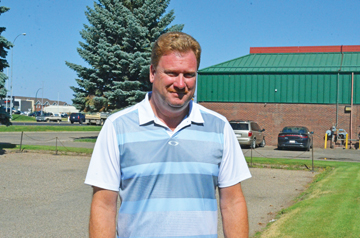 Southern Alberta Newspapers file photo MORE MOVEMENT NEEDED: Cypress County Reeve Dan Hamilton has requested a copy of the HEMS review after getting very little response from Health MInister Tyler Shandro.
By Justin Seward
Commentator/Courier
Cypress County council held their annual organizational meeting on Oct. 15 and voted in Dunmore-Veinerville council representative Dan Hamilton in as the new reeve.
Hamilton served as deputy reeve for the last two years and has been on council for six years and said past reeve Richard Oster had asked if he was interested in the head council positions because he wanted to step back to take care of his own things.
"It's an honour to be in that position," said Hamilton.
"It's some big shoes to fill after Mr. Oster did such a good job for the last year."
"I'm just looking forward on the path that we're going on right now, trying to keep the momentum going on the things we're doing for the county and the positive out look for the county."
Teamwork is Hamilton's goal moving forward.
"My goal and focus is to keep everybody together as a team moving forward."
"Our council is in a good frame of mind. Not everybody agrees but everybody takes the time to listen to each other."
Some motivation Hamilton could take moving forward is what gentleman told him, which was "to keep being himself."
"He's going to be a great leader," said Oster. "Him and I worked hand and hand. He's going to do a great job."
CAP Levy Bylaw-2018/35
Council passed all three of the CAP (Community Aggregate Payment ) Levy Bylaw 2018/35 amendment at its Oct. 15 meeting.
The amendment was to set the levy rate at $0.25 per tonne for sand and gravel. Council approved the motion.
It was back on May 1 that council adopted Bylaw 2018/21 CAP Levy Bylaw and it was subsequent to passing the bylaw, council passed a motion to bring forward a bylaw to repeal or amend.
Under the Municipal Government Act, municipalities have the ability to pass a CAP Levy Bylaw that requires operators to report shipments based on tonnage at a rate of $0.40 per tonne of sand and gravel extracted.
However, with improvements to the Alberta Gravel and Sand Association's membership, county administration had suggested to implement Bylaw-2018/35.
CP rail crossing closures
Coun. Ernest Mudie put the motion forward to have council direct administration to maintain Ranger 65 and 70 and reject CP rail crossing's closure proposal. Council approved.
CP's proposal was to expand their side track limits in between both range roads. Additionally, CP wanted the municipalities consider closing the grade crossings within the side expansion limits, mostly to Range Road 65 and if possible Range Road 70.