Wildfire effects still felt a year later
Posted on October 23, 2018 by 40 Mile Commentator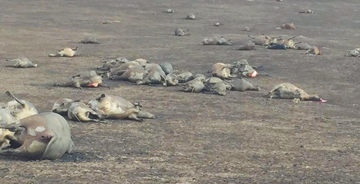 By Justin Seward
Commentator/Courier
Tuesday, Oct. 17, 2017 will forever be a day that many farmers, ranchers and citizens of the Hilda and Burstall communities will not forget after the devastating events of the 85,000-acre fire caused by a fire pit igniting and propelled by 80 km/h wind gusts.
Cattle, crops, fencing and residences were all lost in the blaze that spread from west of Hilda into Saskatchewan.
"You'll never get the images out of your mind of having to put down your own livelihood and cattle that have been in the herd for eight or 10 years," said Andy Kirschenman, president of the Hilda Community Association.
"You've brought them up as calves and heifers to be the next generation of herd. Many of these ranchers had a personal relationship with the cattle they had."
Kirschenman says he vividly remembers that day: the wind picking up early in the day while he was combining and not wanting to continue after lunch because of the gale-force conditions.
"I was at home just after lunch downstairs to keep away from the sound of the wind and I got a phone call from one of our neighbours that there was a fire," he recalled.
"I went out in the yard to get a tractor that was hooked up to a blade and a scraper and drove down until the check engine light came on.
"I parked. I didn't want to get stuck in a place I couldn't get out of. The smoke engulfed our entire yard. We worked our way back slowly with zero visibility and found out my parents' house, shop and cattle shelter were all gone."
For the rest of the afternoon and evening, Kirschenman put out hot spots around the property, while burning grain had to be moved to be hosed down so it did not start another fire.
Reality of the disastrous events did not really set in about three days later, said Kirschenman.
"Kind of by that weekend, people were starting to realize it was time to take a rest," he said.
Several farm houses, buildings and machines and thousands of bushels of grain were lost in the wildfire, as well as hundreds of head of livestock. The financial hit was in the millions.
Rebuild has been the priority for locals in the last year.
While home building is in the works, fence line people are delaying building up cattle herds because there is a lot of fragile grass that will not be grazing for another year or more, he said.
"The fencing is starting to happen," said Kirschenman.
Ken Kundert's Double K Ranch home wasn't damaged, but its grazing was all lost as well as some cattle and fences.
"It's unbelievable. You're just overwhelmed," said Kundert.
"There was so much smoke and dust that you couldn't see where you were at times," said Kundert.
"And you couldn't stop because it was going so fast. We just went to spots that we could do something with."
The worst part of the ordeal, said Kundert, was the death of volunteer firefighter James Hargrave.
Cypress County fire chief Kelly Meyer called it his own worst nightmare in losing someone under his command.
Meyer was called in for duty and he was on the phone with the provincial operating centre and mutual aid partners while people were calling to assist.
Mutual aid was dispatched from the M.D. of Taber, Town of Taber, the County of Forty Mile, CFB Suffield, Special Areas and their neighbours in Saskatchewan.
"It was probably the worst fire I've ever seen in 12 years," said Meyer. "Firefighters were working alongside ranchers, trying to outflank the fire."
"The fire was moving so fast and it was burning so hot that we were having a hard time catching up to it. It was a very hazardous situation."
Communication was the first thing to fail in the emergency situation because everyone was on the radio trying to give updates, he said. "Cellphones were overloaded," said Meyer.
"That one of the most frustrating parts. Trying to call people in limited areas where cell service or radio service was down.
"That area is known for that type of bad communication. We did a lot of face-to-face. We tried to reallocate resources to where it was needed to try to stop it."
While there is still sadness among the firefighters, there have been changes in the county since that devastating October day.
"I know for myself, when I tell them to go off, I get the hair standing up on the back of my neck," Meyer said.
"I'm worried about the firefighters responding and I'm very thankful they make it home at the end of the day. Life's too short. Anything can happen at the snap of a finger."
One year later, there is extra stress in the Hilda area, but it's important to try to find the positives, said Kundert.
"We are a closer community," he said. "We watch out for each other.