Community foundations off to a strong start in Forty Mile
Posted on October 30, 2018 by 40 Mile Commentator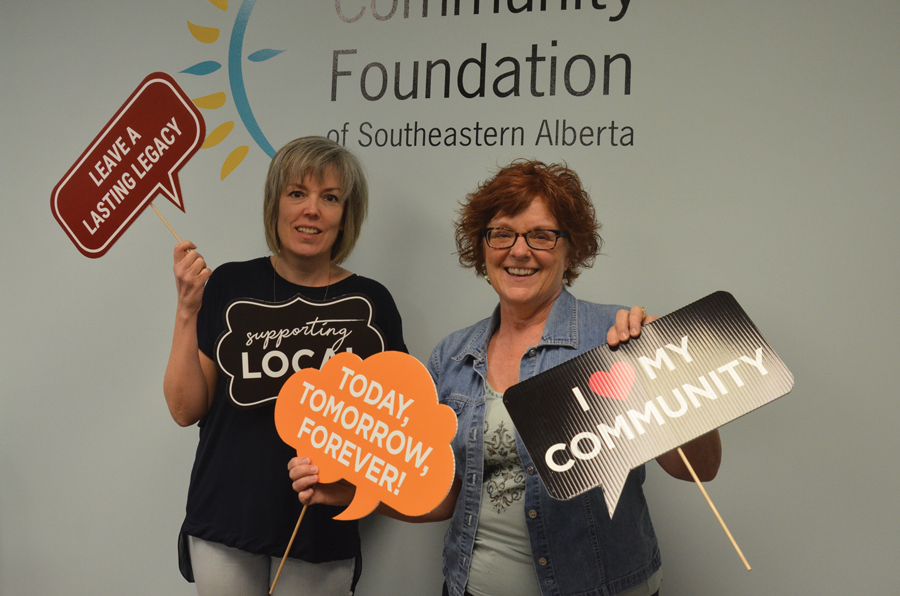 Southern Alberta Newspapers Group photo by Mo CRANKER Community Foundation of Southeast Alberta executive director Chris Christie and project consultant Marlene Watson stand in the Community Foundation office.
By Justin Seward
Commentator/Courier
The Community Foundations of Southeastern Alberta did feasibility studies back in the spring to see where the organization could expand the foundation's capacity in rural areas.
The Town of Bow Island, County of Forty Mile, as well as Cypress County and Redcliff were included on the foundation's list in the study to create their own endowment fund that would be ran by a committee from that community.
Regional development manager for the local community foundation, Marlene Watson, worked with the rural community fund for the County of Forty Mile and said that region has been served in the past through a granting process in partnership with other eligible charities and qualified donees.
"The feasibility study at the time came back 'absolutely,'" said Watson.
"There was a number of meetings with individuals and groups of people in the County of Forty Mile. The timing was right that the people in the County of Forty Mile are ready and waiting for this."
On top of the $10,000 already being dished out to the county from the community foundation, there will be an additional $10,000 be given to the the rural community fund to grant out in the spring of 2019.
"All the donations the community fund will receive are never spent," she said.
"They're kept and invested with a professional advisor. Then the investment income is then dispersed to qualify donees, registerees and charities within the county through a granting process."
Donees could include certain levels of government, health regions and school districts.
"They've certainly put the money where there mouth is," says Watson.
The county's advisory committee has met twice to discuss the best way to promote the investment, and letting people know that the endowment exists and will go on forever because it is never spent.
"There's a nice cross-section of people from across the county," she said.
"But regardless of that, community foundations (and)community funds are very nutural. People on the advisory committee are encouraged to represent the greater good of the county.
"Not where they regionally live or work."
When spring time comes, the advisory committee will look over the grant application and see what fits best for the entire region.
The money for the funding comes from an endowment fund of $12.5- million, which is invested and put into an income investment and distributed into grants into different regional organizations.