Former Talon taking first year in stride with Rattlers
Posted on October 30, 2018 by 40 Mile Commentator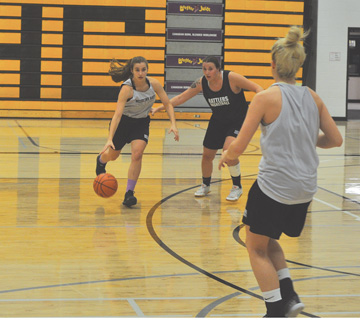 By Justin Seward
Commentator/Courier
Former Eagle Butte High School Talon stand out Amer Karamanos logged a lot of minutes on the basketball court with the teal and black.
But her days of putting up big points are limited in her rookie season with the Medicine Hat College Rattlers, as it has been more of learning year in the snake pit.
"It's definitely different going from playing all the time to not as often," she said.
"It's a faster pace though. I get tired quicker than what I used to at Eagle Butte … Everything is upbeat and you have to go all time. Whereas you got some breaks before."
As for playing time, it is about how hard you practice and the time you put in the gym or shooting on your own with teammates factor in as well, she said.
"I used to be able to drive into anyone and it'd usually work out pretty good," says Karamanos.
"But now that I'm playing against some bigger girls, it's a lot harder now that I'm one of the smaller people on the court.
"I found that I need to learn how to be better at doing the pull up shot rather then just driving all the time."
What is working against her for playing time is she is behind fifth year player and fellow Eagle Butte alumnus Kendall Kuntz as well as a third year and second year who have also had strong performances, said head coach Clayton Nielsen.
"She is able to watch and learn that way," he said.
"Expectations are lower because of that and then next year, some of those players that she's behind are leaving. She'll have an opportunity to really make an impact next year. This year is learning, getting stronger and becoming more the complete player then she was in high school."
Karamanos said having Kuntz on the roster is valuable because "she doesn't hesitate or she doesn't sugar coat it. But she's super nice about it to."
"I love Amer," said Kuntz.
"It's nice to have her here. It's nice to have a fellow Eagle Buttean. She works hard. There hasn't really been a ton of Eagle Butte players come here in the last little bit. It's definitely nice to represent the Eagle Butte program."
The basketball program is why Kuntz chose the Dunmore high school over going to another team in the city.
"Mr. Heinricks was my coach when I was there and I was lucky enough to play senior for him all three years and he ran a really good program," said Kuntz.
"Hat high ran a bigger program with more scouting opportunities. But I chose to go to Eagle Butte because it's a real good school. The small atmosphere is really nice and I loved
playing there."
Kuntz played her first three years of her collegiate career at SAIT before returning to her hometown Rattlers last season, only to be derailed by reconstructive ACL surgery, but said it was tough to come into the snake pit as a visitor.
"It was weird because its always a rowdy crowd, she said.
"When your on the other team, you have the fans chirping you and you come in here playing girls that you grew up playing against. It was tough but I always looked forward to it and tried to do what I could to make us successful."
Now on the Rattlers sideline, she said the team is a close knit crew that works really well together.