Redcliff historic park on track for next year
Posted on October 30, 2018 by 40 Mile Commentator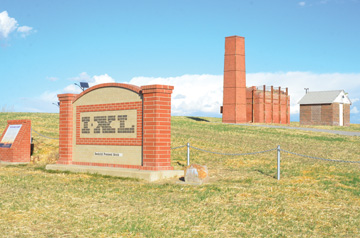 By Justin Seward
Commentator/Courier
Redcliff's I-XL Brick Plant may have been demolished in 2016, but remains will be preserved with an historic park which will open next year.
The historical pieces included the small test kilns and chimney remains with the out building and a stump, while the foundations of the old periodic kilns were buried underneath a mound.
I-XL Industries Ltd. president Malcolm Sissons said after the demolition, the company wanted to commemorate the plant on Mitchell Street that was a mainstay in the town for years.
However, the park construction did not come without its setbacks after breaking ground in 2017.
"One of our biggest problems was we hydro seeded the park and just (with) a brutal summer both this year and last year, (it) just decimated that grass," said Sissons.
"We had to start again this fall. We basically plowed it up and re-seeded it. We're hoping that will work."
"There is a brick mural planned by James Marshall. He has already carved it but hasn't been fired yet. We have to wait until spring until we can do that kind of work."
Vandalism occurred when the project first got underway, but Sissons said it has decreased.
Other equipment is supposed to be installed on the concrete pads by the end of the fall.