Bow Island veteran proud of his military experience
Posted on November 6, 2018 by 40 Mile Commentator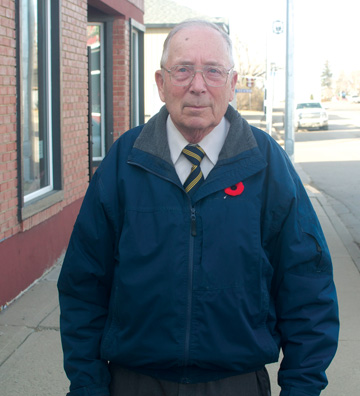 Commentator/Courier Photo by Justin Seward Peter Eichelbaun
By Justin Seward
Commentator/Courier
Bow Island's Peter Eichelbaun began his military journey with the South Alberta Light Horse Medicine Hat reserve unit in 1961 and was involved in a variety of training and competitions before retiring as Captain with the unit he began is career with in the early 1990s.
Shortly after joining the light horse unit he transferred to the regular force in 1962 in Shilo, Man. where he did his basic military training from January until June in a time frame "where they were freezing their butts off," according to Eichelbaun.
It was after the cold prairie experience he made his way east to Kingston, Ont., where he was assigned to the Royal Canadian Electrical Engineers in September 1962.
"That was the unit I was assigned to and took my basic trades training in weapons," he said.
Montreal was the next stop on the journey to get further advanced trades trading in December of the same year before heading back to Calgary to join the Lord Strathcona's Horse Royal Canadians in the summer of 1963 for a week. He later joined their training unit in Wainwright, Alta.
One of Eichelbaun's interests was getting involved in the Small Arms Competition Shooting team back in Calgary, where they won the Alberta championship in 1964 before heading to compete against an Ottawa area team where they placed second that year in the Canadian Army Championship.
The team took another crack at winning the match in 1965 and won the championship and advanced to Brisley, England in 1966.
"Of course in England, you have the British, the Australians, you have quite a few nations competing in the Commonwealth competition," he said.
"You had many exercises going on. (It was) several times a year we would go out to the range."
In the meantime, the units were getting prepared to be rotated to Germany in 1966 and Eichelbuan had received more trades training in Kingston, before joining the Strathconas unit in Germany.
"I was quite lucky to be over here on Christmas Eve to be with my parents in 1965 in Bow Island and flew over to Germany after Christmas and arrived in Risalohne where the unit was stationed and I was able to get a few days off with my grandparents in southern Germany for New Year's Eve," he said.
In 1967, there were many nations that competed in tank gunnery in Bergen-Hohne and was the first time that the Strathconas B unit won the competition, he said.
Eichelbaun stayed behind at Rislohne with the Strathconas to put the tanks in long term preservation while the Canadian brigade was transferred to the Lehr and he then returned to Canada in 1970.
He married his wife Annemarie in 1970 back in Calgary.In April of 1972, he was sent off to the United Nations in Cyprus for six months.
"I was stationed with a maintenance organization over there, the Logistics Squadron," he said.
"I did six months of tour duty and enjoyed every bit of it. We had time off that was actually permitted to get over to Germany for a couple weeks to meet up with my wife who came from Canada, thanks to the air force."
"United Nations tour of duty was a very a peaceful time over there. We enjoyed a lot of free time and there was no hostilities going on at the time."
Upon arriving back in his home and native land, him along with his two kids and wife were sent off to Germany where he was a member of the Service Battalion from 1974-1978.
He would do a second stint in Montreal for more technical training courses in 1980, while in December of 1981 he retired from the regular force and moved back to Bow Island, where he rejoined the South Alberta Lighthorse in Medicine Hat.
Retirement was made official in 1994.
Him and his family started farming in the area in 1982 and now one daughter is in Calgary working for an oil company, while the other is in Los Angeles as a nurse and his oldest, who was born in Germany, is in Medicine Hat teaching.
His son is in the military.
Eichelbaun is the current Sergeant at Arms for the Bow Island legion.