Gators take league playoff crown on home court; stay undefeated heading into zones
Posted on November 13, 2018 by 40 Mile Commentator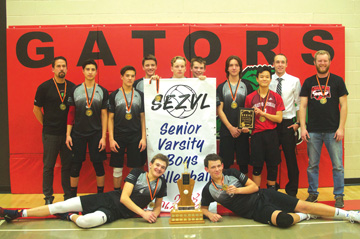 Commentator/Courier Photo by Justin Seward A STEPPING STONE TO SOMETHING BIGGER: The Senator Gershaw Gators senior boys won the league playoff title on home court against the Medicine Hat High School Mohawks on Nov. 7.
Justin Seward
Commentator/Courier
The script could not be written any better on Wednesday night, as the Senator Gershaw Gators senior boys volleyball won the league playoff crown over the Medicine Hat High School Mohawks (25-16, 25-19) on home court to remain undefeated on the season.
"Extra special on home court," said Gators head coach Andy Phillips.
"To have three Grade 12s (Thomas Smith, Aidyn Phillips and Chris Byam) win this league championship in their final game on this court is special too."
As hosts, Phillips has the boys thinking about controlling their own half of the court and if they could do that, they would be in the good shape.
"We've got bangers to put balls away, put points away," said Phillips.
"We wanted to pass well and serve well. That's one nice thing about this team is that we can distribute the ball. We have five guys that can put points away.
"We've got the big guys we rely on when we need the most. But all the other guys stepped up too."
Phillips felt the Garde12s commanded the court well on the evening.
"Thomas Smith was absolutely unreal in our semifinal against Crescent Heights. I think he had five kills and three blocks," said Phillips.
"Chris was good the whole way through and Aidyn got better as the night went on."
However, with every perfect match comes improvements that need to be made, which the coach was enthusiastic about during the matches.
"I'm happy with the unforced errors," said Phillips.
"In the middle of the second set (in the final) three of four points were silly errors on part. Two net touches and a missed serve. Once we battled through that, we were rolling."
With the third league title in the last four years under their belt, now the focus shifts to zones and provincials.
"I just talked to the boys that league wins are nice, but it's not really what the year is about," he said.
"We have to refocus next week. Zones will really define whether this was a successful season or not."
Byam took home a first team all-star and for the second year in a row, MVP .
"It was a goal of mine to be MVP again," said Byam.
"I had a friend who went back-to-back."
To win it against Hat High was even more special because he was healthy this time around.
"I actually wanted to play them, I was pretty fired up. The first time we played him was when I was coming back from an injury, a torn rotator cuff. I wanted to get back out there and play at full strength," he said.
"That's with every team, if you can get out there and get the jump on them, swing that momentum."
Zones are this weekend in Lethbridge.