Redcliff council hears PRSD's budget framework
Posted on November 20, 2018 by 40 Mile Commentator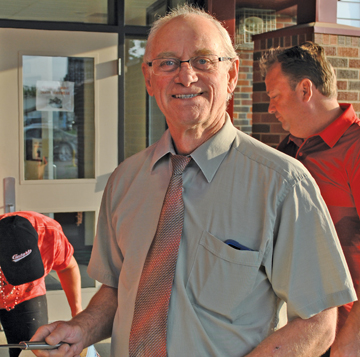 Commentator/Courier File Photo- Prairie Rose School board chair, Stuart Angle,
Contributed by Phil Buisseret
Redcliff town council heard Prairie Rose School Division's (PRSD)on school funding at its Nov. 13 meeting.
This is the first time that such a presentation has been made to Redcliff town council.
PRSD's school board chair Stuart Angle along with board of trustees Arnold Frank and Pam Cursons were on hand to make the presentation.
"The present funding framework is broken" said Angle.
"Enrollment is shrinking and when the government grants are allocated on a per student basis, we are in a difficult situation. For example, Prairie Rose has 86 daily school bus routes that bus students three- million kilometers a year. We are subsidizing the bussing half a million dollars a year.
"These funds come directly from the general budget and we have to take the money from somewhere else".
PRSD are making an effort to retain students into the schools with the Willie Desjardins hockey program.
"The smaller schools in our division also benefit students, allowing teachers to get to know everyone" said Frank,
"But we are competing with other school jurisdictions and must offer specialized programs unique to our school division"
Frank pointed out that "it is paramount that everyone understands how the schools are funded".
Angle was anxious to stress that they were not looking for extra funding from the town residents, but the board felt that it was important that everyone know the current funding situation and its challenges which are unique to a school district that "is the size of Switzerland" with over 3000 students and more than 200 teachers working in schools with as few as 14 Students in New Brigden to 290 at Eagle Butte school.
Seventeen Hutterite colonies are also in the school jurisdiction.
Waste disposal fee at landfill
Also, on the Agenda was discussion regarding a contract recently made with Can-Pak Environmental for waste disposal at the Redcliff/Cypress Landfill. The fees charged to Can-Pak are lower that normal.
This is because the waste is already "pre-shredded" consisting of both organic matter and shredded plastics.
Coun. Larry Leipert stated that the volume will be at least 3000 tons per month and the contract is for 12 months, the actual "air space" taken by the shredded material is small and will fill in the voids created by regular waste. As the contract is for only one year it will be reviewed accordingly, and adjustments made if needed.
Bad debts
Bad Debts were also discussed. Over $9000.00 in uncollectable debts owed to the town by Renters was "written off". This figure was much lower than in previous years due to a new by-law that makes Landlords responsible for debts to the town incurred by Renters. These Debts typically are for by-law infractions and utility arrears.
The town goes through the process of trying to recover the debts such as using debt collections however some debts are "not collectable" due to Renters moving away and leaving no forwarding address. Mayor Dwight Kilpatrick said that in the future due to this new by-law the bad debts will continue to decrease".
The next regular town council meeting will be on Nov. 26.