Talons oust Vikes for zone title
Posted on November 20, 2018 by 40 Mile Commentator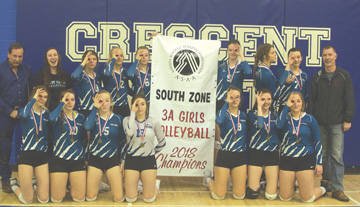 The Eagle Butte Talons senior girls volleyball team were the number one seed heading into Zones over the weekend at Crescent Heights High School and it showed as the ladies took home the gold medal and banner after sweeping the host Vikings in three sets in the final.
"It was nice because there was a lot of pressure on us," said Talons head coach Maurey Salmon.
"I think from the start, we were thinking we had a pretty good shot at winning it. We played at the higher level when we needed to, which is a bonus for us."
The final against the Vikings was the Talons' best match, he said.
"Once we knew we had provincial berth, we calmed down and just played some volleyball and relaxed," he said.
"I think the key was keeping the nerve under control and giving them a break when the nerves are too much for them."
The path to victory was a grind and McCoy made Eagle Butte battle for every point in a thrilling four set semi-final.
"McCoy is a good team and there was a lot of emotion in that game," said Salmon.
"They had their nerves more under control then we did . We seemed to be more of the nervous team. It was nice to get through that one."
For Grade 12, Donera Resch, and the rest of her teammates, it was a nice breather to get to the finals and play team they are familiar with after going through the tough match against McCoy, who they only saw once all season.
"We both wanted it equally, said Resch.
"It's just we pushed a lot harder. We really made sure our defence was good and all of our offense was working."
Vikings coach Scott Galloway said his girls were not at their peak but played well enough to get to the final on home court.
"Our entire goal this season has been trying to find one of those berths to provincials," he said.
"We were very excited to make the final and maybe we let down a little bit. I thought we didn't execute as well as we did all day. But Eagle Butte is a strong team, very deserving. Number one seed coming in and proved it with their victory today."
It was a fun match for the Vikings to be in.
"It was such a fun game," said Vikes' setter Litany Bloomfield.
"I loved the energy and just how everyone was in it. We were happy with how we did and we played to our best ability. We wanted to beat Eagle Butte but unfortunately it didn't happen but now we got provincials to work towards."
It has been over 20 years since a Crescent Heights girls volleyball team has made it to provincials and getting to the final on home court was a big accomplishment for the school.
Both teams are playing in provincials this week in Beaver Lodge.
Note- This is the updated version to the story as it is Vikes' setter Litany Bloomfield, not Vloomfield