How sweet it is
Posted on December 5, 2018 by 40 Mile Commentator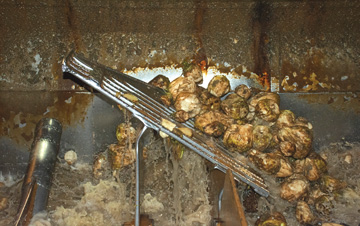 By Allison Billings
Commentator/Courier freelancer
Ever wonder where sugar comes from besides the grocery store? Did you know that you can get sugar from a beet? Although sugar cane is the crop most often associated with the production of refined sugar, approximately one-quarter of the world's production actually comes from beets. Locally grown throughout Alberta, sugar beets are grown, harvested and produced here in southern Alberta. Sugar beet is a biennial plant that grows best in rich, deep soil and temperate climate. Sugar beet production is well suited for the irrigated land in southern Alberta. Sugar beets are a rotation crop, planted once every four years to minimize potential disease problems. After sugar beets are harvested in the fall, they are shipped to receiving centres, where they are kept until the plant is ready to process the crop. At the factory, they are washed, then sliced into thin, noodle-like strips called cossettes. To extract sugar from the beets, the cossettes are soaked in hot water. This produces a sugar-rich juice, which is heated, then mixed with a lime (calcium oxide) solution that reacts with many of the non-sugar impurities in the juice. Next, carbon dioxide is added, which reacts with the lime to form solid calcium carbonate, which precipitates from the sugar solution carrying with it the impurities, which are then filtered out. The juice is known as "thin juice." This "thin juice," which contains less than 20 per cent solids, is then concentrated by evaporating as much water as possible to produce "thick juice," which contains about 70 per cent solids. Thick juice can either be sent for further processing into granulated sugar immediately, or it can be stored for processing into granulated sugar at a later date.
Thick juice is evaporated further in vacuum pans, producing sugar crystals suspended in syrup. This mixture is fed into a centrifugal machine, a large circular basket rotated at high speed to separate the crystals from the syrup. Then the crystals are washed and dried. The resulting pure sugar is stored until ready for packaging or for liquid sugar production. The syrup left after the initial crystallization process is put through the process twice more. Any remaining syrup is known as beet molasses, which is sold for yeast production or as a liquid animal feed supplement.
Currently the Rogers beet factory in Taber can produce up to 150,000 tones of sugar from the locally grown sugar beets. The Alberta Cooperative Sugar Beet Growers was established in Lethbridge, Alberta in 1925. The same year in which the Canadian Sugar Factories Ltd. factory was built in Raymond, which closed in the 1960s. The name was changed to the Alberta Sugar Beet Growers' Association in 1941 and to Alberta Sugar Beet Growers' Marketing Board in 1984. The board serves the sugar beet growing areas of Southern Alberta, including Bow Island, Coaldale, Diamond City, Iron Springs, Lethbridge, Picture Butte, and Taber. ASBG has had close links with the Canadian Sugar Beet Producers' Association, the national association. Currently there are just over 200 farming families that grow sugar beets in Southern Alberta. Next time you are baking with Rogers Sugar you can be assured that it is locally grown Canadian sugar.