County given the OK to get designed plan for Dunmore intersection
Posted on December 19, 2018 by 40 Mile Commentator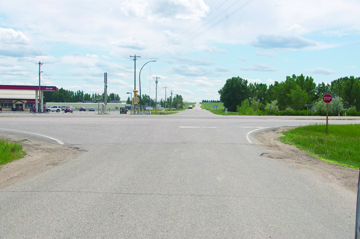 Commentator/Courier File Photo FINALLY STARTING: The Highway 1, Charles Street and Eagle Butte Road intersection is expected to start at the beginning of September.
Justin Seward
Commentator/Courier
Cypress County came out of the RMA (Rural Muncipalities of Alberta) near the end of last month with some long awaited news.
Alberta Transportation gave the county the go ahead to begin an engineered design for the treacherous Dunmore intersection at the Trans Canada Highway in between the Eagle Butte Road and Charles Street.
"It's a positive," said county Reeve Dan Hamilton.
"It's been a long road. We've got the go ahead to start the engineering and then once we get the engineering done and once everything is approved, we'll send it to them to be prepared."
Hamilton could only confirm that the engineering plan would be done sometime in early 2019 at the earliest.
"We're way further ahead than we were a year ago," said Hamilton.
The project will involve installing signaled lights to stop traffic in all four directions and new turning lanes.
Where the issue lies is the crossing over the Trans-Canada to Eagle Butte Road, which is the entrance to the hamlet, high school and Co-op Gas bar. Charles Street is on the opposite side of the highway and leads to a light industrial area and the Dunmore Equestrian Centre.
The light installation has been in the works since 2006 after there were three reported fatalities in the two years previous.
Alberta Transportation installed large stop signs and speed was reduced to 80 km/h and stated that the volume of cross traffic did not have enough significance to have less and not more lights on Highway 1.
Costs are still being worked out for the engineering.
With files from Collin Gallant, Medicine Hat News.