Bow Island Playschool Association focuses on early community interaction
Posted on December 27, 2018 by 40 Mile Commentator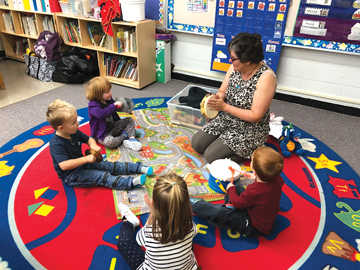 Photos Submitted by Tara Robertson Bow Island Playschool Association teacher Lorraine Wikkerink plays drums with the kids.
By Justin Seward
Commentator/Courier
The Bow Island Playschool Association has running out of St. Michael's School for 18 years and has more recently placed a focus on community engagement and hands on interaction for their young students.
The privately ran association's programs run on Tuesdays and Thursdays for Bow Island and county area three and four year olds.
Three-year-olds are in the morning session and the four-year-olds are in the afternoon, with each session running two-and-a half hours long.
"We usually start more of a formal, I call it 'circle time,'" said teacher Lorraine Wikkerink.
"We get together. We do the calendar, weather, usually a story time and that is centered around a theme and then I incorporate different recognitions of letters, math, counting, sorting … getting their skills ready for reading."
Sensory play has been an area of significance, which allows the kids to feel different textures, including wet, dry or sticky.
A recent experiment the kids did prior to wrapping up prior to the Christmas break was decorating a bristled tree with pom poms and fake snow.
"(It's) not so much in our rural community, but more in the cities, there's not a lot of kids that get outside and play a lot and have that opportunity to play in different things," she said.
"That's a big thing now is playing in different things. It might be in rice, sand, water, slime. Every week I have a different theme and different centres that they can go to and experience different things.
"This year, Playdo is a big thing and the sensory table. Most of them like to paint. We also have an outdoor time that we go outside and then music class."
Getting out the community is also essential to the young children's development such as a recent fire hall visit as well as having local RCMP, a garbage man and a hair dresser coming into give the kids a talk.
" We were doing a fire station… we talked about an area of the fire, (and how) you can't be afraid," said Wikkerink.
"They don't really hear and see or feel what the firemen looks like unless he's right in the next room with you. I said 'They're a friend and they're there to protect you and you don't need to be afraid of them.''
"We're very blessed that we do have still people to volunteer their time that will come into the classroom, whether it'd be the RCMP officer or the garbage man."
These initiatives are a part of the goals the playschool has set to enhance their social skills and making friendships.
"For me too, there are friendships with parents and their children," said Wikkerink.
"I think a great opportunity to have these little ones and to have (ones) trusts in their care. They don't know who I am. I don't know who they are. It's a learning curve on either side. We worked together as parents and teachers.
Sessions start up again on Jan. 8 and sign up is available now by calling Wikkerink (403) 545-2649 or Tara Robertson (403) 866-9272.