Jamboree speakers focus on education
Posted on December 27, 2018 by 40 Mile Commentator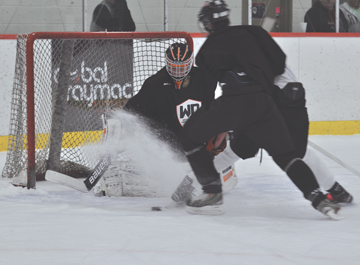 By Justin Seward
Commentator/Courier
IRVINE
The Christmas break is almost here and for Willie Desjardins South Alberta Hockey Academy players, it meant spending one of the remaining school days left playing in a 3-on-3 jamboree and listening to a panel of hockey experts on Tuesday at the Irvine Sports Complex.
Darren MacMillan, a teacher at Eagle Butte High School and an assistant with the hockey academy, said the event celebrated its accomplishments thus far.
"It's that time of the year, is celebration, and I thought it'd be a good opportunity to bring our four academies (Irvine, Eagle Butte, Foremost and Parkside) together just to mix the kids (up)," he said.
Players listened in on the panel of Medicine Hat Tigers head coach Shaun Clouston, former Canmore Eagle and University of Alaska-Fairbanks Nanooks goalie Ryan Comeau and University of Lethbridge Pronghorn men's hockey player Torrin White.
"The neat thing about academy is it's very education based," said MacMillan. "So have an opportunity for these kids to listen to some of our local experts talk about their experiences and give them anecdotals."
"It's really neat listening some people up there like Ryan. Comeau played University of Alaska-Fairbanks when my brother (Tavis) was coaching up there. Even he says 'Man if I would've had this stuff that these kids have today.' The stuff they have access to… such as our academies.' He's thinking he would've gotten way farther than what he did."
Comeau, who is now a chiropractor with Kinetisense in Medicine Hat, told the younger group about him having to balance his passion for hockey and education.
"I want to reiterate how lucky you guys are to have a hockey academy," said Comeau. "It's absolutely outstanding. One of the coolest themes is it naturally bridges education with sport. You don't see schools separate from sport."
Like a lot of other Canadian kids growing up, Comeau had aspirations to play in the NHL, but he reminded the players that you need a back-up plan with another career in case the dream does not work out.
"When I was in Grade 5,6,7, I started to put my schooling aside," he said. "I did not concentrate on my studies as much as I needed to because all that really mattered was hockey. In my mind I thought 'I don't need to have good grades because I'm going to play in the NHL.'"
Grade 8 rolled around and his gym teacher, who had gone on to play university hockey in Michigan and professionally, sat him down in his office to give him a pep talk about how important it is to have good grades.
"He said 'Ryan you're really good at hockey, you have so much passion for hockey. If you put that passion into hockey towards your studies, the sky's the limit.'" he recalled.
"I said 'I want to play in the NHL.' He said 'What if your studies and getting grades open opportunities to play higher level hockey?' And that was totally a mind flip for me."
"What I did is I started to buckle down. I started to study as hard as I could. I took the competition from hockey and applied that to my grades. I wanted to get A's in all my classes."
As result of his dedication, he was able to secure a full-ride scholarship within the first three months of playing in Canmore to Alaska in the mid- 2000's.
Once he completed his degree in biological sciences, he went to Los Angeles to chiropractic school where he had the opportunity to work with the NHL's Kings and NBA's Clippers.
"Success just doesn't happen," said Clouston. "From my experience with the Tigers the past 16 years, the most successful players absolutely love coming to the rink. They just didn't do what the coaches told them, they figured all kinds of ways to get better.
"If you really enjoy hockey, take advantage of this."
Ethan Machan is a South East Athletic Club Tigers player from Eagle Butte who values the effective instruction in the academy.
"They give us a lot of opportunity to get better and it has made me a better hockey player as well," said the 15-year-old.
"I've been able to put the puck in the net a lot more. I've been able to make nicer passes. Overall my skills have been polished."
Janaya Laqua of Foremost School is one of the females in the hockey academy and is not phased by the stronger male contingent on the ice because she is used to playing with boys.
"It's more rough and I like that, she said.
The hockey academy has made her improve and going a basic skill of the game.
"It kind of helped me improve in stick handling," said Laqua.
The academy is hosting an information night at the Prairie Rose School Division office Jan. 14 at 7 p.m. Anyone interested in learning more about the academy is welcome to attend. For more information about the night, call 403-502-7362 or email sahockeyacademy@prrd8.ca.