Adios 2018, hello to a fresh start in 2019
Posted on January 3, 2019 by 40 Mile Commentator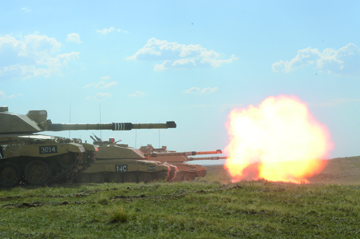 Commentator/Courier photos by Jeremy Appel A tank blast seen during "Operation Prairie Storm" at CFB Suffield on May 16.
By Justin Seward
Commentator/Courier
Well, 2018 has come and gone and it was a busy year in Cypress County and Redcliff, leaving for lots of intriguing storylines behind.
January
It had only been a few short months since the election and for Redcliff Couns. Chris Czember and Shauna Cockle, they have enjoyed their time with the town so far.
Czember had cited "It's a fascinating job." "I find when I lay in bed at night that my mind wanders towards town council issues." Czember seeked playing an active role in the town's affairs. The reason he ran for council to begin with. "I don't want to be another body," he said. He wanted to make sure the town gets the most out of their tax dollars.
Cockle said she's learned a lot in brief time with council.
"It's been a huge commitment," said Cockle. "It's been a bit of a learning curve. Although I've sat on many boards and been part of many organizations , the town is a little bit different.
"We've got lots of policies, procedures, bylaws that kind of melt together."
She cited improving the town's infrastructure, specifically its sewer system as her majority policy priority for the new year.
The new Dunmore Fire Station was off to a busy start in 2018 as they were dispatched to five calls.
Cypress County Reeve Richard Oster spoke to the Courier abut his vision for the next year. An issue he wanted council to push for is to have Alberta Transportation install a traffic light at the Dunmore service station entrance. He added that hamlets will continue to see infrastructure improvements, while rural areas will see construction on their developed and undeveloped roads. Cypress County, the City of Medicine Hat and the Town of Redcliff will work on intermunicipal collaboration.
The county, City of Medicine Hat, and the Town of Redcliff all agreed at their first meetings of the new year on going in on an Alberta Community Partnerships (ACP) grant of $200,000 under the Urban Intermunicipal Collaboration Category.
The City of Medicine Hat has agreed to submit the application and will be the managing partner, while the town and county will be the participants. Reeve Oster mentioned at the time there needs to be more open lines of communication with the city.
"I feel we're good neighbours," said Oster. "… I think something that's important is we should be invited to the table. Who knows what we can do… but let's work on this."
Cypress County hired Cst. Rebecca Wilkie from the Redcliff RCMP as their new "enhanced officer." The position allows her to be more active in the various communities she serves throughout Cypress County.
Redcliff's council chamber was packed at its Jan 22 meeting with over 30 members of the public to express discontent with a perceived lack of consultation for plans to introduce bi-weekly curbside recycling.
It was recently before the meeting that southern Alberta municipalities implemented curbside recycling including Medicine Hat, Lethbridge, Taber and Coaldale.
The Town of Redcliff plans to introduce separate garbage and recycling pickup. Council could not divulge many details of the arrangements since it was currently undergoing negotiations with Can Pak Environmental.
A petition circulated around the meeting and made its way around the public.
Cypress County established the James Hargrave Scholarship fund. The county matched the donations that were raised by members of the county's emergency services of $10,684. The scholarship will be handed out annually to a firefighter going to training school at Lakeland College.
Schuler School had a ribbon cutting ceremony for the new school to end January.
February
Cypress County approved a motion to direct administration to prepare a conceptual plan for the development of a 39 residential subdivision west of Willhelm Street at its Feb. 6 meeting.
Housing structures would include newly constructed dwelling or a new ready to move-in /dwelling modular home put on a foundation.
County enhanced officer Rebecca Wilkie was at the same meeting and said she had been busy at the Irvine Sports Complex as well as the local coffee shops where local ranchers and bus drivers talk to her.
Stop-ins at the Walsh gas station, Dunmore gas station and Premium Sausage had also brought up questions. She also told council that she is around the schools teaching the DARE program.
Guilty pleas were entered by Denver Ryan Ailsby on Feb. 8 after he was arrested in April 2017 after a cache of firearms were seized at an Irvine residence. He went into guilty pleas for four of nine charges he faced including one count of unsafe storage of a firearm, two counts of unauthorized possessions of a prohibited firearm and one count of possessing firearms contrary to a court order.
The Redcliff recycling sega continued at council's Feb. 12 meeting. The plan unveiled that there would be a 7.7 per cent cost savings during the system's first year. The projected savings will increase to 22 per cent in 10 years according to the data provided by town administration.
Some residents were still convinced that curbside was not the way to go. Two residents- Jordan Weiss and Jeff Grey- presented to council, expressing their concerns with the new system. Weiss also submitted his petition opposing curbside, which had more than 500 signatures. A number of questions were posed to council that evening such as its total cost, how it would work on apartment buildings, who would be liable if the bins causes property damage and its impact on senior citizens and disabled.
"We're asking council to advise us of the reasoning behind the decision to make these changes," said Weiss.
Grey said he was not against recycling but is opposed to mandatory curbside collection.
"There are other options (then) curbside such as centralized recycling areas, or add to our existing back alley bins, which we already own," he said.
Redcliff's municipal manager Arlos Crofts addressed some of the questions.
He read from the administrative's written response by saying that apartment and condominium complexes will have their own larger bins, while any damage done to property or the bins by the contractor shall be repaired or replaced by the contractor," said Crofts.
He said there will be programs to assist the elderly and handicapped, which will require the town's approval.
March
Alberta's Ministry of Agriculture and Forestry, Oneil Carlier, announced on March 5 that it's providing a $200,000 grant to assist victims of October's wildfire in Hilda. The funds are in addition to the $25,000 per property loan provided by the province in December that's interest-free for two years.
Carlier was joined by federal Minister of Agriculture Lawrence MacAuley for a March 25 tour of Jenner, the site of the first confirmed outbreak of Bovine tuberculosis in September 2016. The purpose of the visit was "to commemorate what ended up being a successful conclusion to what was big problem," said Carlier at the time. Both ministers visited with cattle producers in the area to discuss their concerns.
"Fires are never pleasant, obviously, and we're hoping this goes a long way to help alleviate some of that stress," said Carlier.
Redcliff Mennonite Alternative Program (RMAP) saw their first two graduates, Elena Wall and Isaak Wiens cross the stage.
The Irvine School band program returns after a four year hiatus and a partnership was reached between Prairie Rose School Division and Medicine Hat College.
Alberta's Minister of Labour Christina Gray visited a tomato, cucumber and organic greenhouse on March 27 after initially canceling her initial visit in February. Gray mentioned government values derive around the hardworking greenhouse growers that provide food to Albertans year round.
April
Cypress County Reeve Richard Oster spoke the Cypress Courier about the hamlet of Seven Persons being a future place of growth. With Highway 3 twinning in the works, the county wanted to develop commercial and industrial lands, while for residential areas, the goal is to keep agricultural land as is until development is required.
"To have that plan in place, makes it so easy if somebody comes and walks into Cypress County office, our planning department can work with them and everything's in place. If they have an idea, they would know pretty fast if it would work out there. It'd be nice to see a few more people in there."
With files from Jeremy Appel
Phil Monteith was named Redcliff's Citizen of the Year for his community efforts.
Cypress County CAO Doug Henderson informed council of his immediate resignation at the April 3 meeting after 35 years will the municipality.
The Town of Redcliff remained the Greenhouse Capital of the Prairies for the foreseeable future .
"Nobody was really adamant about the rebrand," said Redcliff Mayor Dwight Kilpatrick of former mayor Ernie Reimer's project.
"Honestly that was almost driven by a couple of individuals and they're not here right now.
"It's pretty close to (being) dead in the water."
Jenner School principal Murray Brown and Grade 7 student Wyatt McLean spoke to Prairie Rose School Division's board of trustees about how the school is going to repair the military grave of Private James Tribe.
McLean described the grave as "nasty."
Cups and cans would constantly be thrown into the graveyard by travellers as well as overgrown weeds.
Property crime was up in the first quarter of 2018 as Redcliff RCMP Staff Sgt. Sean Maxwell reported to Redcliff council's April 23 meeting. Property crime more than doubled between the final quarter of 2017 and the first quarter of 2018 in Redcliff, going from 32 incidents to 74.
Redcliff ended off Pitch-In Week with 30 community members picking up yellow garbage bags to scan the community for trash.
May-
Cypress County felt drier conditions after the snow melted, which presented an early fire risk. "There's an increased fuel load left over from last year in the field and that fuel is very easily ignited," said Cypress County's emergency services supervisor and fire chief Kelly Meyer. "We are in a fire restriction right now and we are issuing permits on the basis of farmers and ranchers , that burning is required for their livelihood. They need to have water trucks on scene, equipment on scene and people on scene to be able to do a controlled burn."
Diane Good was named Cypress County's Citizen of the Year.
Cypress County Coun. Dustin Vossler moved the motion to approve the Agriculture Service Board's policy for governing a program for the rolling and recycling of grain bags. Its purpose is to provide producers with assistance in rolling and delivering used grain bags for the purpose of recycling the bags and keeping Ag plastics out of the landfill.
Council approved all three readings of the Community Aggregate Payment (CAP) Levy bylaw. The bylaw was going to charge $0.40 per tonne.
Guilty pleas were entered on May 7 by a man connected to a string of rural break-and-enters, vehicle thefts and dangerous driving that ultimately led to a roll over into a highway ditch. Bail was also denied to 30-year-old Randy Yaholnotsky until his May 30 sentence
With files from Peggy Revell- Alberta Newspapers Group
The county approved a land use reclassification for a new 11-22 Seed Cleaning Plant on the Highway 41A and Range Road 52.
Redcliff town council passed the second reading of its Land-Use Bylaw for the upcoming legalization of recreational cannabis. Among the amendments is a sunset clause of five years of cannabis retail store development permits, which will be reviewed by the town four years after they're issued.
Cirque du Soleil's 'Crystal' performance hit the Canalta Centre ice in Medicine Hat from May 23-27. Crystal, the main character is one of the 40 artists from 11 different nationalities in the event who goes on her own exhilarating journey, diving into a world of her own imagination on her quest to explore [at a high speed].
Redcliff and Cypress County fire crews battled a structural fire at the RedHat Co-op on May 26. Smoke and water damage was done on the exterior and the cause of the fire was unknown at the time. Investigators were on scene the same day.
June
A 64-year-old Medicine Hat cyclist succumbed to his injuries after colliding with a Buick SUV on Township Road 120 at Range Road 62 on June 3.
The Dunmore Equestrian Centre hosted their inaugural Short Track Chore Competition. Two heavy horses were driven by their owners through a tightly spaced obstacle course that is timed. If a hoof goes outside the white line, the team was disqualified.
RedHat Co-op told the Courier they will be running the business as usual after a structural fire.
Hilda Barrel Racer Korilye Kundert hosted a barrel race fundraiser for those affected by last October's wildfire.
Eagle Butte High School Talons unveiled the new Dave Rozeba AAA award in honour of the very well liked teacher that passed away with cancer last September at their year-end banquet. The award goes out to the male and female athlete who show exemplary attitude, academics and athletics. The first recipients were Aidan McLean and Livia Ricci.
Cypress County looked for a cost share from the province on the Dunmore intersection at Charles Street and Eagle Butte Road. The project involves traffic light installation at the intersection and road improvements. Council approved the motion to receive the Dunmore Future Developments Traffic impact Assessment as information and send a letter to Alberta Transportation, requesting the province to 50 per cent of the costs associated with installation of traffic signals and roadway improvements at the intersection of Charles Street, Highway 1 and Eagle Butte Road, with $370,000 funded from the county's accelerated rehab fund, subjected to a potential re-design.
Shovels officially broke the ground for Eagle Butte High School's Modernization and Addition project. The changes on the exterior will be the installation of a new roof, which will include solar panels. Interior renovations include to the GTS shop, science lab, library common area, cosmetology lab, special education rooms . drama and art rooms, while there will be two retractable walls for classroom space.
Agriculture Minister Oneil Carlier visited Hilda after the mid-October fires. He said it was his first opportunity he'd had since the wildfire and there was no use going to Hilda until the snow had melted.
Jordana Dyck's Grade 3 Irvine School class ended off the year with hosting Chinook Village residents as a part of the Pen Pal Project. It was around the Christmas prior that students sent cursive-style, hand-written letters to their pen pal senior friends to get to know some of the residents.
"We've gone back and forth six times," said Dyck.
"They've gained a lot of friendships in the class. They really look forward to their letters. My focus for my kids is for them to write a letter and express their thoughts and their ideas, and getting interested in other people."
The students were "jumping" when they found out their Chinook Village pen pals were coming to visit them on June 26 at the school to have coffee and play cards.
Redcliff town council passed the first reading of a Land-use Bylaw amendment concerning cannabis retail store overlay. The overlay itself was passed in a series of cannabis- related Land-use Bylaw amendments at council's May 14 meeting,but the town received and application from KRC investments on June 12 to includes its property at 631 South Railway Dr. NE in the overlay. This did not mean there will be a cannabis store at that location, but the company wanted to keep that option open.
July
Cypress County council approved to pitch-in the remaining $23,000 needed to start the construction of the Medicine Hat Rotary Track Soccer Complex revitalization project at their July 3 meeting. The project would include a 50×30 track and a track and field society administration building will be built at the south end, administration offices along with equipment storage, a high jump pit and a first-aid room.
The county also inked a new fire agreement deal with the City of Medicine Hat after 18 months of negotiations, during which time a new county fire station was created and a response map redrawn. Fees paid by the county are expected to fall by only $100,000 per year next year in the partly retroactive three-year agreement. Fees are projected to be $286,300 for 2019, and then $73,000 for 2020. With files from Collin Gallant, Medicine Hat News.
County council voted to have a James Hargrave memorial to be erected in front of Walsh Fire Station.
Seven Persons' (Keith and Kody)Traxel family were named the 2018 Calgary Stampede BMO Family Farm on July 9 in Calgary as the Cypress County recipient.
Abby Perret was named 2018 Medicine Hat Exhibition and Stampede princess and Haley Schlenker was crowned stampede queen on July 14.
Prairie Rose School Division in conjunction with former Medicine Hat Tigers' head coach Willie Desjardins announced the Willie Desjardins South Alberta Hockey School for local schools starting in the fall.
Redcliff town council passed the final two readings for the cannabis retail store Land-use Bylaw amendment.
CFB Suffield hosted NATO soldiers for CBRN response training. The Canadian forces-led exercise was a simulation of a chemical, biological and radiological nuclear (CBRN) attack.
August
Premium Sausage uses local ingredients in a variety of new creations during Alberta Open Farm Days. This was the first year that owners Mark and Debbie Penner participated in the annual event. Debbie explained "We do work with the agriculture industry, we use local meat—-local beef, pork and all that from southern Alberta. People want to know how their food is made and they want to know what's in it–nowadays more than ever. We thought let's do some education and show people how we do things, what's in it, and we thought they maybe interested in that."
Tenley Warburton was crowned the 2018 new Little Britches Sweetheart on Aug.18.
Harvest Day for the Canadian Foodgrains Bank brought in more than 3,000 bushels,which was down from the 4,600 a year ago.
Cypress County hosted the Canadian Sheepdog Championships for the first time.
The Parkside Pythons bantam football team started a new era with Nathan Kobley as their new head coach after the departure of long time coach Lloyd Bray, who went to the Crescent Heights Vikings to coach his son.
September-
Cypress County council voted in favour of Coun. Michelle McKenzie's motion to amend the R20 Gravel Road Maintenance policy. The notable change was under the Roadside and Mowing Sparying maintenance guides where a trained fire guardian will follow a minimum of 1,000 metres behind the mower during extremely hot and dry weather. Conditions will be monitored by directors of public works and municipal services daily and could temporarily suspend roadside mowing.
Redcliff professional golfer Ryan Werre decided to step away from the game after three years on tours. He cited watching other players progress and him failing to get to the next level was the reason to step away.
Cypress County hires Tarolyn Aesarud as their new Chief Administrative Officer, replacing Doug Henderson, who resigned in April.
The Elkwater Girl Guides camp celebrated 30 years on Sept. 30.
PRSD came to Cypress County to discuss a possible $10 million training facility to be built in Dunmore. The school division wanted $5 million from the county. Council is still thinking on the proposal.
October-
On Oct. 11, Redcliff' Riverview Golf Course announced in front of packed clubbhouse of members and town ratepayers that their $405,000 in debt and have been struggling to pay it back in the short term. The debt has ran up for 10 years.
The course saved over the last couple of years by cutting staff and budgets for grounds crew and equipment.
Club members and ratepayers were asked to help with the debt by paying a one-time fee of $500 to help start paying off the debt.
Local Kelly Booker pitched in $5,000 of his own money to help those people who couldn't afford the fee.
The golf course held a meeting on Oct. 25 was put forward by town Coun. Chris Czember to form an executive to save the course. Everyone voted the motion through.
"No mudslinging," said Czember at the time.
"It got a little heated in here today, but that shows there is passion for the course , too."
The executive was expected to iron out details in the coming days after the meeting.
The course would also remain open on day-to-day basis with volunteers working.
Heritage Pizzeria opened its doors in Redcliff on Oct. 2.
Cypress County passed its Fire Services Bylaw. The bylaw addresses safety, health and welfare for county residents and authorizes operations fro for Cypress County Fire Services.
County quarter horse breeder Herb Krause and family won a 50 year breeders award at the American Quarter Horse Association awards banquet in Amarillo, Tex. on Oct. 22.
November-
Members of the 11-22 Seed Cleaning Plant came to the Cypress County council meeting on Nov. 6 with a business plan for the new $10.6 million facility on Highway 41A and Range Road 52. The facility would include cleaning 750,000 bushels, which is up from the 250,000 in the current facility.
Cypress County deputy reeve Richard Oster and Redcliff Mayor Dwight Kilpatrick were a part of a panel at the inaugural Leadership Breakfast with Medicine Hat Mayor Ted Clugston, house speaker Bob Wanner, and Cardston-Warner- Medicine MP Glen Motz. Oster said "It is vital to work other municipalities to address opportunities to best serve communities." "Whether it'd be utilities, emergency services or recreation. We'll make our community stronger and more viable.
Kilpatrick said "We don't have anything splashy happening." " I think we've always believed is if you keep a stable growing town with a tax rate that doesn't spike, that people can get used to and work with that, hopefully good things will eventually come your way."
The Community Foundations of Southeastern Alberta doled out $12,550 to the local KidSport chapter at their annual Chair's Reception at the Connaught Golf Club on Nov. 29. The funds will be dispersed to Redcliff and area kids to participate in sport.
Cypress County was given the OK to get designed plans from Alberta Transportation at the Rural Municipalities of Alberta (RMA) Conference for the Dunmore intersection.
December-
Cypress County will look into allowing greenhouse owners to grow cannabis. The topic was discussed after Deputy Reeve Richard Oster, reeve Dan Hamilton and director of municipal services Jeffrey Dowling visited with some local greenhouse owners recently. The plan is to amend Bylaw 2018/04 with the new cannabis regulations so the interested greenhouse owners can grow cannabis. The bylaw regulates licensed cannabis production facilities to operate only in the hamlet industrial districts, light industrial districts or industrial districts. The requirement distance is a minimum separation of a 100 metres measured from the property line of the cannabis operation to the wall of the closest resident. The bylaw's greenhouse definition does not include cannabis production. A greenhouse operator would be required to reclassify their property to light industrial or an industrial district before the Municipal Planning Commission (MPC). It will be up to the MPC to issue a permit to allow cannabis production as a Class 2 Discretionary use.
The newly formed Riverview Golf Course executive presented a plan moving forward to Redcliff town council in an hour long closed door meeting on Dec. 10. The discussion was about how the golf course will stay open for the 2019 season.
Executive member Bill Duncan said it was positive and council would review the proposal as presented.
Provincial officials announced three new wind farms that won long term supply contracts. The three projects include a 202- megawatt, 48-turbine "Cypress Wind" facility 20 kilometers south of Dunmore, in partnership with the Kainai First Nation , being built and serviced by 2021 and two near Jenner. One being a Capston Infrasturcture's Buffalo Atlee and an Ontraio-based Pontentia Renewables, who will build in two phases, totaling up to a 193 megawatts in Special Areas 2.
Redcliff's 1st Scouts held their third annual "Santa's gone Toonie" event at the Baden Powell Centre. Presents were donated and cost $2 and were wrapped by volunteers and scouts.