HALO has an early New Year's wish come true
Posted on January 9, 2019 by 40 Mile Commentator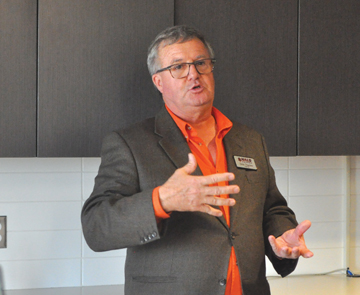 Commentator/Courier File photo Dale Thacker.
Justin Seward
Commentator/Courier
After 12 years of being in the air strictly on continuing community donations, HALO got a big boost to their funding from Alberta Health Services (AHS) to start 2019.
For the first time in their existence, (AHS) pitched in a one-time grant of $1 million to off set the costs of the operations for the BK-117's budget as announced at a press conference at the Medicine Hat Regional Airport on Jan. 4.
AHS's decision to help the local helicopter rescue came after their purchase of the twin-engined BK-117 (HALO 2) last spring which provides increased services for transporting patients to the nearest hospital and expanding to Calgary.
The grant will be for the short-term as it will help with HALO 2's operating costs of $2.6 million, a significant increase from the single-engine HALO 1 costs of $850,000.
"It brings a whole new level of support," said HALO's board of directors chair Dale Thacker.
"But it also brings a whole new level of fundraising requirements. It just has so much more. Even on days when the weather is inclement, we can still operate."
Once the helicopter was acquired in May, the discussions between the two sides were simple, said Thacker.
"It was pretty obvious that Alberta Health Services weren't willing to support the single-engine platform," he said.
"They just didn't feel there was the patient safety, safety for their paramedics and safety for the public. They require the twin-engine helicopter."
The one time will cover the basic costs of the helicopter.
"From a board perspective so much of it is volunteer effort," said Thacker.
"We don't have any other expenses. That's why the HALO program is so cost effective because virtually all the money goes towards the helicopter."
The grant will expire on Sept. 30, 2019 and HALO's hope is to negotiate a long term plan with AHS prior to the deadline.
"An important point they made to me is we're on the inside of the tent now," he said.
"I think now we're going to be judged on merit and that's the way we should be judged."
Cypress- Medicine Hat MLA Drew Barnes praised HALO for all the hard work they have done for the region.
"Congratulations firstly to everybody at HALO," said Barnes.
"First of all for your tenacity. Twelve years of caring about Alberta, keeping our needs first and foremost in the minds of the rest of Alberta. Secondly, with our local citizens, to ensure how important this service was and of course we see so often in southern Alberta,they stepped up so willingly time and time again."
The Commentator spoke to Bow Island Mayor Gordon Reynolds a day before the press conference and he was pleased with HALO's hard work paying off.
"I'm pleased for the HALO board and certainly congratulate them on all of their hard work," said Reynolds.
"The hard work isn't finished either by any means. They've done an amazing job and looking forward to seeing that whole relationship with them and AHS getting even stronger. It's all about serving our communities. It's probably an exciting way for us to start off 2019 in southeast Alberta."
Cypress County Reeve Dan Hamilton said it was great for AHS to step up.
"It's been all volunteer to this point and hopefully they recognize this needs to be a sustainable donation every year," he said.