MacPherson's leadership becoming noticeable in the locker room
Posted on January 9, 2019 by 40 Mile Commentator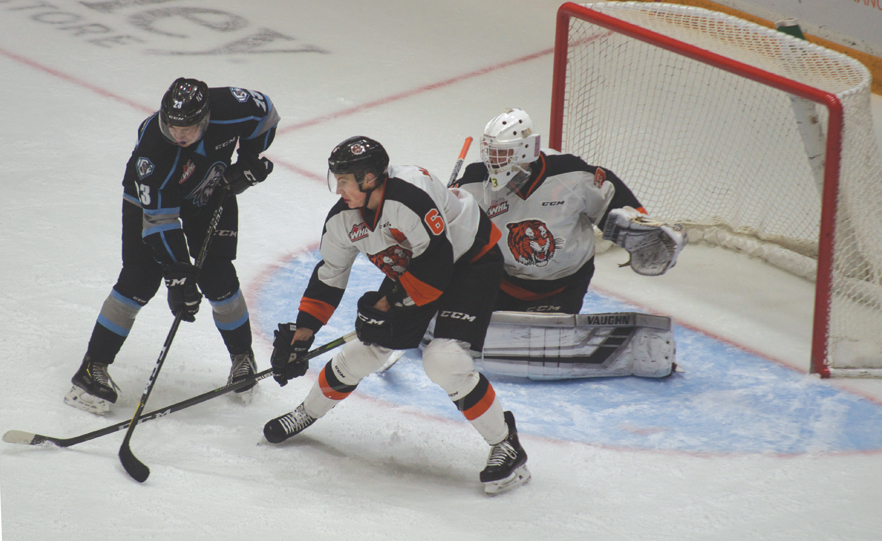 Commentator/Courier File Photo Redcliff's Dylan MacPherson is off to Springfield, Mass. this September to play for the Florida Panthers' affiliate on a one year pro contract.
The Medicine Hat Tigers came out guns a blazing after the Christmas break, reeling in five straight wins and putting themselves within reach of Central Division penthouse after beating the Kootenay Ice 5-3 at the Canalta Centre on Jan. 4.
"We're playing as a team," said 20-year-old Dylan MacPherson, who hails from Redcliff.
"The confidence is high. We're trusting each other and it's good to see. We're going to try and keep it rolling."
MacPherson had the assignment of shadowing the Ice's all-star and future NHL prospect Peyton Krebs all night long.
"It's confidence that the coach is trusting you to go out there and shut down top guys like Krebs that are in the future going to be in the NHL," he said.
The 6'3" smooth skating rearguard started his season out at the Florida Panthers prospects camp as well as their minor league affiliate in Springfield, where he learned a lot about how to be a professional and a time where he brought back lessons learned to his final major junior season.
"Just the strength," he said.
"Those guys, they're men. You go from playing 16 to 20-year-olds here and you go and you play 20 to 40-year-olds there. They've got that old man strength and it's a little different when you jump up there.
"I'm a little more confident. Getting an opportunity like that just shows that I can play there and do well. I've just got to keep pushing and stay confident."
Tigers' bench boss Shaun Clouston said MacPherson has stepped up his game with using his wheels (skates) more offensively.
"We like to see that joining the rush, leading the rush and carrying the puck wide," said Clouston.
"He's a 20-year-old and we expect lots from our older guys. When that puck is out at the point, that's the job, is to really box out and compete for ice in front of the net."
For sophomore defenceman Cole Clayton, to have MacPherson leading the blueline has been a welcome addition night-in and night-out.
"He plays the system and is always listening to the coaches," said Clayton.
"He's a good role model for everyone, including me. He's a good communicator. He's not so much a loud, yeller talker. He'll pull you aside and tell you some stuff."
The tabbies winning streak was halted at five games after being defeated by the Calgary Hitmen 4-3 on Saturday.