Post holiday trash amount stayed the same
Posted on January 9, 2019 by 40 Mile Commentator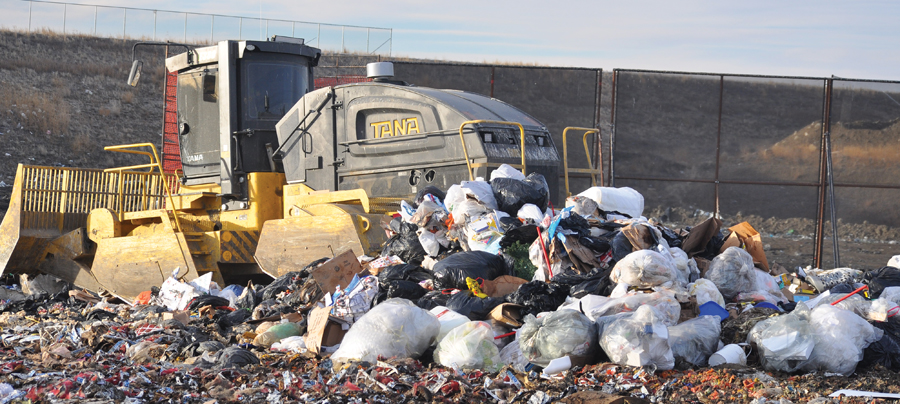 Commentator/Courier Photo by Justin Seward SCRUNCHING UP THE TRASH:The bulldozer was out crushing up rapid piles of garbage on Friday at the Redcliff/Cypress Landfill.
By Justin Seward
Commentator/Courier
Now that Christmas and New Years festivities are over and people are on their journey into a New Year, there is other necessary task of taking out large amounts of trash, with disposal being done at places like the Redcliff/Cypress Regional Landfill.
The Town of Redcliff's director of public works, Corey Popick, said the tonnage has maintained itself over the last couple of years, but saw an increase from 2017 to 2018, ending the holiday season trash pile amount at 2,500 tonnes of mostly product packaging.
"On a five-year running average that's what we expected," said Popick.
"That amount would need a material separating system. Once it's all mixed up, there's no way to separate it."
Popick said county and town residents are becoming more educated on distinguishing between garbage and recycling products and as a result the landfill is seeing less of the paper and cardboard products.
There were no noticeable concerns with dropped off loads over the holidays, he added.
Every year the landfill staff track the new products that are new to the dump.
"Every 100 loads, we do random load checks," said Popick.
"We're seeing if we can get anything in there. But if you could imagine 100 trucks are coming into the landfill, you're not investigating every load."
The landfill had an efficient year because the efficiently ran operations and the sorting system that limits wind blown litter from escaping.