Etem back on local ice
Posted on January 16, 2019 by 40 Mile Commentator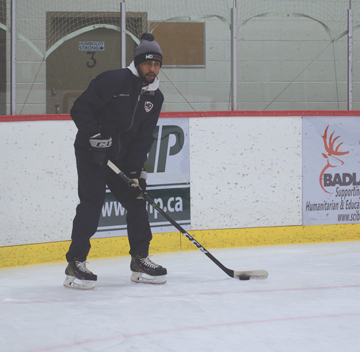 Emerson Etem helped out with skills drills at the Irvine Sports Complex on Jan. 8. The former Medicine Hat Tiger star has moved back to the city with his young family and is volunteering with the Willie Desjardins South Alberta Hockey Academy while awaiting a work visa.
By Justin Seward
Commentator/Courier
Former Medicine Hat Tiger all-star Emerson Etem may have retired from the professional ranks after seven seasons, but his heart still remains in the game.
The California product moved back to the Gas City with his young family and has strapped on the blades as a volunteer instructor with the Willie Desjardins South Alberta Hockey Academy, with his first session Tuesday at the Irvine Sports Complex.
"It's nice to be back here, the city has always embraced me and I've always embraced the city" the 26-year-old said.
"Just to get back to the Medicine Hat feel and the family values. Everything that comes with the great city of Medicine Hat.
"When it comes to coaching, I just thought I'd chat with Willie and see what we can come up with. At the same time I'm just volunteering right now and we're in the process of getting a work visa if all goes well. I'll be out here helping the kids and it was a good feeling out here today."
Etem said it will be interesting being on the coaching side of things.
"It's a very good feeling when the kids are coming in after school every day to just get better," he said.
"That's the feeling I got out there ? I knew once I was in their shoes and it's very nice to be on the other side of things. You can see in their eyes they want to get better with each and every drill."
If he had time back on his side, he probably would be skating in the big leagues, but it was his knee doing the talking, forcing him to submit the retirement papers after playing more than 170 NHL games.
"I've had enough," he said. "Some guys go through injuries. Some guys can have a very long 20-year career. I'm glad to be here and embracing every moment of it."
He had stints with the Anaheim Ducks, who drafted him in 2010, New York Rangers and Vancouver Canucks, taking it all in at each stop.
"Just being in the locker room of some of the more historic franchises in the NHL," he said.
"You dream of making the NHL as a kid and just sitting in that locker room, all the hard the work pays off. Definitely went through some highs and lows but some stories I'll never forget for sure."
Having a family made the decision easier to make Medicine Hat home and he plans on soaking in all the amenities the city offers and attend some Tiger games.
"He's wanting to set down some new roots and establish a new direction in his life," said Darren MacMillan, hockey academy assistant.
"We're just ecstatic to have him. As things develop here and we see where he gets to be personally, we'll expand his involvement.
"To have a skilled guy that has played in the NHL, that has worked with some of the skilled guys in the NHL as well, both skating and skills, it's great. I even watched him out there today, the energy the guys had was amazing coming back after the break."
Kaden Rath plays defence for the South East Athletic Club midget 15 Tigers and said Etem's presence will only improve all the players' games.
"It's just awesome that he's willing to help us out and put in his time," said Roth.
"He can do so many other things but he's helping us get better at hockey. He was really trying to get us to show targets while passing, like be loud (and) possess the puck."
The 15-year-old Rath had the opportunity to watch Etem growing up as well as on TV.