Parkside students put their math skills to work
Posted on January 16, 2019 by 40 Mile Commentator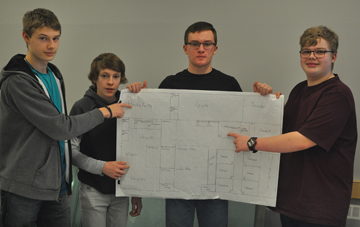 Commentator/Courier Photo by Justin Seward Reiker Leipert, Jacob Hazzard, Connor Keith and Nathan Lehr wanted more fitness options with their design.
By Justin Seward
Commentator/Courier
A bunch of Parkside School Grade 9 math students had the opportunity during classes over the last month in groups to design what a possible new Redcliff School would look like using their math lessons and science knowledge.
Students presented their final designs to town , school and Prairie Rose School Division representative on Jan. 11.
School vice principal and Grade 9 math teacher Rocheal Howes spearheaded the project for her students and said the middle school is trying to make learning more relevant to the real world, which included an authentic audience and challenging the students to make a new school.
"They were challenged to design a school that is safe and caring and connects to the community," she said.
"They gathered data from Parkside School and used that data to drive their design to make something that they really like."
The students had to meet math objectives by drawing a diagram to scale which involved measuring current schools, giving them ides on how big rooms are and how wide hallways should be.
"There is no budget here, but it still had to be reasonable," said Howes.
Students took the feedback given from community members to improve their projects, she added.
Kailee Keays and her peers Kayden Hillier and Shaye Letkeman gave up lunch hours and gym classes to perfect their project.
Their design had a vision of being a larger school with more space, more couches and have the capacity to host sports tournaments.
"We learned that students have different views and perspectives than we do," said Keays.
"We took more from our questions and answers from the students and put them towards our school."
There was a lot of thinking involved and the group had moments where they thought their design was not going to be done on time, but through their extra efforts were able to propel through, she added.
Nathan Lehr, Reiker Leipert, Jacob Hazzard and Connor Keith felt in their design, there needed to be more workout spaces.
"Kids can have fun and workout at this school," said Lehr.
"We want this to be a workout facility so that any community members can come in, work out, enjoy our facilities and our gym. More people like sports rather than sitting around and doing nothing."
"I think they've done an amazing job," said Howes.
"They've all worked really hard on this and very much engaged on this project. And knowing this day was coming, (it) motivated them to be done on time and making sure they put forth their best effort."
There is a piece of town land set aside for the possibility of a new school in the future.