Long-time Redcliff Legion member receives high recognition
Posted on January 29, 2019 by 40 Mile Commentator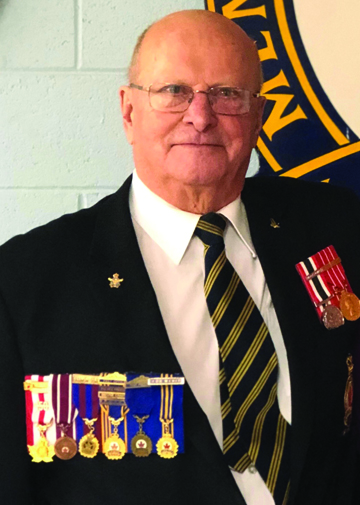 Pierre D'Amour received his Palm Leaf Award last week.
The Redcliff Legion began their Robbie Burns Night by recognizing 40-year member Pierre D'Amour with the Palm Leaf Meritorious Service Medal (MSM) award on Jan. 25.
The award is the highest recognition that can be given out to a member who exemplifies dedicated service to the Legion and the community.
"It was a great honour," said D'Amour.
"One of the biggest things is the one (Wayne Donner-past president in command) who presented me my Palm Leaf is the same one that gave me my MSM in 2012. I was very happy with that."
Every five years, MSM awards are handed out for life long members, he added, with the Palm Leaf being the last one.
While he was in the services with the military, his trade was looking after messes, bars and kitchens and he came to the Redcliff branch as a manager and with that experience he retired and still puts his time in everyday at the Legion.
"It keeps me young," he said.
"I know I don't have to do it but I enjoy doing that because it's me,"
He helps organize Redcliff Days, the Veterans Supper, weddings, funerals and anything else that needs to be done around the branch.
Bill Fardy is the service officer for the branch and has known D'Amour since he moved to Redcliff in 2001, and whether or not he was on executive, he was always involved.
"Anyone that wants to know what's going on here, ask Pierre," said Fardy.
"He'd be very missed if he wasn't here. He does everything."
Other presentations on the evening included the Past Officers Awards: past president Barry Cole, 1st vice president Steve Marshall, public relations bar Marlyn Hunter, honours and awards bar William Fardy, past officer award and executvie committee bar Bridget Fardy, past officer medal, exceutive committee and bar- Ron Keith. Margaret Brown was recgonized for a Special Service Medalsfor Ordinary Members as well as 70-year pin- Ron Lepperd, 55-year bar and pin- Sterling Adam, 50-year Golden Anniversary- Garth Woolf on behalf of L. Conte, 45-year- Wiliam Demish and John Leonovich, 35-year- Darrel Eagles, 30-year -William Fardy, 25-year- Dennis Rathwell, 20-year- Kevin Corcoran, Gordon Harth and Robert Wright. Associate Members: 45 -year: Hans Bakker, Marlene Deren, Donald Finkbeiner, Ken Forbes, Don MacGregor, Drew MacGregor and Robert Mack. Forty years: Glenn West, Brent Hope and Arianne Baker. Thirty-Five: Eunice Bullock, Archie Remenko and Karl Hager. Thirty years: June Wiersmas, Alana Seleski,Vivienne Pancoast, Merle Davies, James L Cresswell, Sylvia Bergdhal. Twenty-Five years: Vernon Steeple, Randon Osgood, Ryan McNeil, James Davies and Brian Davies. Affiliated members: 20 years of service- Helen Leslie and Dale MacKay.