Buis wants to make locals aware of wind farm project upon arrival
Posted on February 6, 2019 by 40 Mile Commentator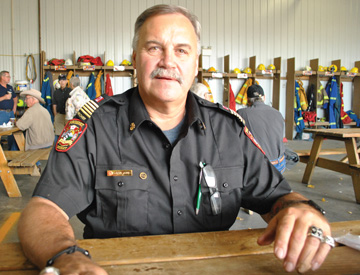 Village of Foremost Mayor Lorne Buis
Foremost's rail yard will be the site of the drop-off and pick up of the $325-million Whitla Wind Farm's major components starting in June.
With the parts drop-off, will come 616 truckloads from the rail yard to the work site, 10 Km south of Bow Island.
The future congestion has sparked Mayor Lorne Buis to want to have the community educated earlier rather then later on the implications of the mammoth project coming to the area.
"The Village of Foremost isn't involved too much. The residents are," he said.
"… It's going to be busy around here. That's one thing we need to have is an open house with all the residents of Foremost and area to (have) them realize that there is going to be a lot truck traffic out of here from June 1 to the end of October."
Trucks will be coming and going from the rail yard just off Highway 879 and heading north towards the site constantly.
"I've talked to the trucking companies and they'll have flag people (and) traffic control as they're moving stuff," said Buis.
"People need to be aware as well that if they're all of sudden leaving with three trucks that have wind mills on it , you might want to find a different route to Medicine Hat."
The project's goal is to have wind turbine parts transported on 12 truckloads a day while the sun is up and will not work during the night, he added.
"These aren't normal transport trucks," said Buis.
"These are long trucks. These blades are 171 feet long. These trucks don't just turn on a dime. They're going to need lots of time to get around intersections."
Buis, who also sits on the Forty Mile Rail board, added that these are little inconveniences for people and if drivers hit the rail crossing west at Skiff, it will take 20 minutes to cross.
Local economic impacts will be to the rail yard because there will be infrastructure paid for to improve the image to the village's future.
"Whether it's grain or whatever, we can do group loading somewhere on our line," he said.
"If we can get this infrastructure in place, it's paid for, and then we can carry on with some of these projects rather then scrambling to do everything."
Businesses in Foremost and Bow Island will benefit from the crews who will be purchasing equipment and replacement items for machinery and trucks.
An open house date will be announced soon.