Farmers feeling a sense of urgency with prolonged drought
Posted on February 6, 2019 by 40 Mile Commentator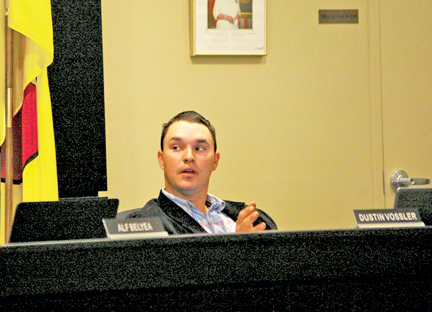 Ag service board chairman Dustin Vossler
By: Justin Seward
Commentator/Courier
It appears the moisture is hiding from farmers a little while longer, and is reeking havoc on their operation with seeding season looming.
Agriculture Service Board chair Dustin Vossler said cattle farmers are enjoying the weather because they are not having to deal with the frigid temperatures of a year ago.
But while there is some good with the bad conditions, other farmers can not be enthused with how this winter is going after battling extreme heat this past year.
"Right now, everyone is wishing to get a little moisture in the ground so it gets a good start off to seeding," said Vossler.
"It's necessarily not in the rural that we get it immediately. But coming into the next couple of months is where we want to start seeing it."
Now potentially going into year three of a drought, it will start hurting the pocket books, he said.
"A lot of these dryland farmers, they can't handle that many years in a row," said Vossler.
"It starts to get to the point you have to make some decisions on you're doing."
Water preservation is in tough times and the hope for farmers is to leave stubble in the field in order to collect snow and prevent it from blowing off.
"The climate comes in cycles," he said.
"We see it every 10 years. We get a good few years of dry. A few good years of wet. It's southern Alberta, if you don't like it, wait 10 minutes."
Ken Kundert is the owner of Double K Hereford Farm near Hilda and he said it's the "hope and pray" approach.
"If the conditions continue to deteriorate, some tough decisions will need to be made, possibly selling off some cattle but in the meantime we will have faith and hope for the best," he said.
"It's definitely discouraging," said Kennedy Fandrick, acting assistant agriculture fieldman for Cypress County.
"Dry winters, dry summers, we get no break."
Seven Persons and Irvine's precipitation count from August 2018 to currentlhas dropped from 100 millimetres to 70 millimetres.