'Painting with Val' is one of Redcliff's colourful gems
Posted on February 20, 2019 by 40 Mile Commentator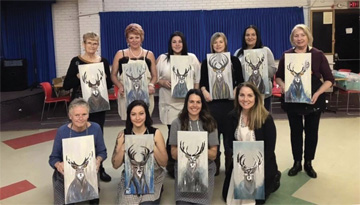 By Stan Ashbee
Alberta Newspaper group
On the fourth Thursday of the month, the Redcliff Legion welcomes "Painting with Val" — a monthly paint night event from 6-9 p.m. with local artist Valerie Cox.
"I started painting classes in the watercolour medium when I was nursing in Winnipeg in 2012 to help get through the winters," Cox explained, adding she learned the basics of mixing colours, recognizing values, and the power of water. Cox noted her art style is mostly impressionism.
Cox said "Painting with Val" provides an experience that challenges participants to use various tools to create a unique piece of art. "It's great to see how impressed people are with their own art piece at the end of the evening."
According to Cox, she also offers monthly paint nights with seniors at Park Place Meadow Ridge. "I have done several private house paint nights, birthday parties, fundraisers, and trade shows." The next paint night is Apr il 25.
To Cox, art is many things. "I think this community has a very diverse and rich art scene.
Recently, Cox said, the winter folk festival at the Verve and Inspire Cafe featured the work of local artists, the Medicine Hat Art Club and Medalta. There's plenty of opportunities for local residents to get together for paint and craft nights, according to the artist. "People can create, have fun, and socialize without a huge investment."
Cox retired and moved to Medicine Hat three years ago and is truly impressed with the local talent and art scene in the area.
"I think the greatest support I've received to promote my art is the Town of Redcliff — who promote my paint nights and local artist and instructor Maureen Newton from Inspire Studio and Gallery," she said, adding she also paints weekly with the Strathcona watercolour art group.
Right now, Cox said she plans on improving her own skills, while making paint night an interesting experience for all that attend.
For more information about upcoming paint nights visit her "Painting with Val" Facebook page.