Cypress County has new smartphone app
Posted on February 26, 2019 by 40 Mile Commentator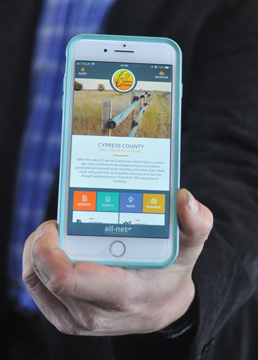 Justin Seward
Commentator/Courier
Cypress County residents will now have the information at their fingertips on what is happening in the municipality after the launch of the county's smart phone app on Feb. 19.
The app will allow for residents to access notifications on a fire ban statues, submitting service requests and viewing the agendas and minutes from council meetings.
"With the website package we bought, the app was an optional extra and we thought it would be great idea to get notifications out to the public a lot easier," said Tracey Jenkins, the county's communications coordinator.
"We're hoping there's a big impact. We're hoping people will use the app because it's going to be a great tool."
Jenkins termed the app to be "visually pleasing" because of it being simplistic and a cleaner than the old website.
Smart phone users can go into the App Store and search Cypress County to download.