Gershaw students now planting in greenhouse; track plans making progress
Posted on February 26, 2019 by 40 Mile Commentator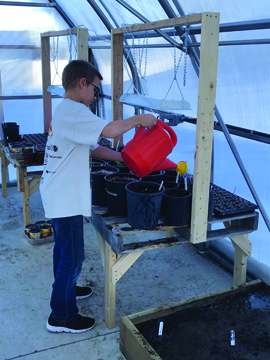 Photo Submitted by Scott Angle LEARNING GREENHOUSE ESSENTIALS:Branden Langeweg watering some vegetables in this 2019 file photo.
Justin Seward
Commentator/Courier
Senator Gershaw's greenhouse plans were developed last year and now students can be seen planting vegetables.
The vegetable growing will be a part of the school's junior and senior high foods program.
"Senator Gershaw's greenhouse is fully functioning," said school principal Scott Angle.
"We have a number of vegetable growing."
Pine trees and flowers are also being growing in the greenhouse, which will be used to brighten up community colours.
"Flowers may be used for spring planting in our school and community. Trees may take a couple years to be planted," said Angle.
A conjoint composting program between Senator Gershaw and Bow Island Elementary has been ongoing to reduce waste and increase sustainable production through using a natural watershed and naturual biodegradable products.
As for the community's running track , since September there has been a committee formed with the purpose of resurfacing the track.
The committee has received quotes from different companies to develop a track that will be paved to allow students and community members to use no matter the weather pattern.
"Our development plan will have a track (that) will excavate a proper base for minimal heaving in southern Alberta climate," said Angle.
"Once completed, Bow Island will have a community track for all residents of Bow Island and the County of Forty Mile," said Angle.
The goal is to have the track resurfaced and paved this summer.
The total cost of the projects is $196,000 and the committee has applied for a number of grants including the Community Facility Enchancement Grant (CFEP), which could cover half the cost of the project.
Angle said the other half of the cost is expected to come from donations in the monetary and in-kind from southern Alberta companies, the Town of Bow Island and County of Forty Mile.
Community members wishing to donate can go through ATB Cares , using Prairie Rose School Division as the keyword.