Irvine Hotel hosted fundraiser to help local man with medical issue
Posted on February 26, 2019 by 40 Mile Commentator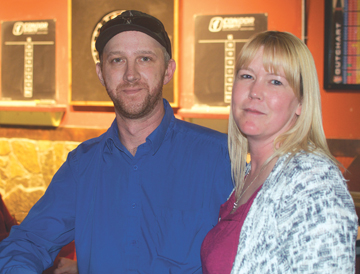 Joesph Hordos and Jennifer Cooper at fundraiser on Friday night.
Justin Seward
Commentator/Courier
There were close to 180 local area people that packed the Irvine Hotel on Feb. 22 for a steak supper and silent auction fundraiser to support one of their own who suddenly fell ill back in September 2017.
Joseph Hordos has lived in Irvine since he was 12-years-old, and now at 38, is facing an uphill medical obstacle that has limited his mobility.
"(In) September 2017, I started losing feeling in my legs," he said.
After testing, doctors said he had auto-immune attack in October 2017, where he had inflammation on two locations in his spinal cord.
There was no prior signs of medical issues other then an infection.
"That's the problem with it, they can't pinpoint any specific thing that it would be," said Hordos.
"I don't have a diagnosis as of yet."
A steroid was prescribed to weaken his nerves, but while in the regenerating phase, the pain became unbearable.
"After that I went on Corticosteroids which knocked all my nerves out. The nerves started regenerating, but the pain came with them," he said.
His work put him on E-I in November 2018 after his ability to walk became limited and treatments began to make the medical bills increase.
"When I wasn't getting treatment from the MS clinic or my doctor, I wound up seeking a naturopath in Lethbridge," he said.
"At the time I thought he was helping but it wound up being not a very straight up deal. That took a lot of the funding out of me and being on E-I."
After a December fall, he broke his elbow and arm and after surgery he had another attack and lost all leg mobility.
However, through the thick and thin of this battle, girlfriend Jennifer Cooper, has been his rock having been there every day for needs and driving to him to his appointments.
"I can stand a little bit for a short amount of time, but (walking)around and doing anything is tough," he said.
"She's just been awesome and everything with the fundraiser."
Cooper said "it was absolutely heartwrenching," to see her boyfriend go through the pain.
"He pushed me away after about two years of dating," said Cooper.
"I just said 'once you get out of the hospital, if there is any other reason you broke up with me, that's fine. But if it's because you're sick, I'm not standing for it.'"
She was overwhelmed by the support by the fundraiser, which the couple did think about organizing.
But it wasn't until Nada Krejci encouraged them that the ball got rolling.
"We had planned a steak night. We hadn't set a date yet, Nada kind of pushed us," she said.
"It was about three weeks ago that we set the date and we've been going strong ever since. In the last 10 days, it has just blown up. The support is completely overwhelming."
From all the steak dinners, $10 went to Hardos as well as the auction money.
There is no timeline as to when he might be back up to full-health until his auto immune stops attacking.
Rehab and getting stronger day-by-day has been a goal of his everyday with the help of medication where he says he's getting some mobility back.