Let the renos begin
Posted on February 26, 2019 by 40 Mile Commentator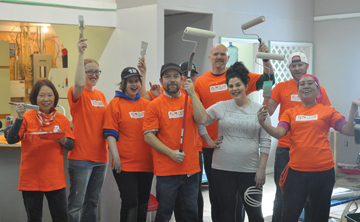 By Justin Seward
Commentator/Courier
Justin Seward
Commentator/Courier
Redcliff's youth walked into the start of a refreshing, new looked youth centre on Monday after renovations began earlier this month.
Interior renovations of the building began on Feb. 16, starting with Medicine Hat Home Depot employees coming in and painting the walls over the Family Day long weekend.
The overhaul was made possible after the youth centre was the recipient of a Home Depot Canada's Foundation Orange Door Project grant last fall of $30,000 to do capital renovations.
"It's been a long time coming," said youth centre program coordinator Janae Ulrich.
"We have needed these renovations for quite a long time. It nice to be approved for something like this and give back to the kids that utilize the youth centre everyday. On a day-to-day basis we have anywhere from 20 to 40 kids that utilize our space. Assuring that it is a safe space, giving back to them (and) making sure things are up to code is just really essential for programs and the services we run here."
New floors, doors, lighting will all be addressed on top of a new coat of paint and the completion of the facility's backyard open space will also be included in the grant.
"This is their place," said Ulrich.
"This is a safe place. It keeps them off the streets, away from deviant behavior."
Darrell Bennett, assistant store manager with the Hat Home Depot, said he has been involved with similar projects through Team Depot and for the crew it is about helping out those who need a helping hand in a community.
"It's fun coming out and helping the community," said Bennett.
"It's volunteer basis. We have different people show up each time from work. Everybody likes to give back. We have painting DS (department supervisor), regular associates, spouses, a little kid running around just all having fun helping out."
Painting was expected to be done last week, while flooring will be installed at the beginning of March.
Doors will be put in the spring.
The hope is to have all the renovations done by May.
The youth centre was re-opened for the kids on Feb. 25 while renovations are ongoing.