Talk focuses on impact of technology on children
Posted on February 26, 2019 by 40 Mile Commentator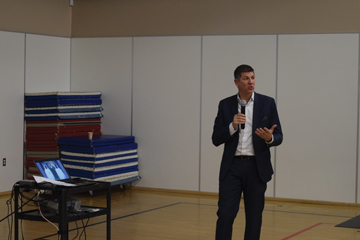 Alberta Newspaper Group Photo by JEREMY APPEL Dr. Phil McRae spoke at Redcliff's Isabel F. Cox School on Wednesday about the impact of technology on children's education and emotional well-being.
By Jeremy Appel
Alberta Newspaper Group
By Jeremy Appel
Commentator/Courier
Dr. Phil McRae, a professor and former advisor to the ministry of education, spoke at Isabel F. Cox School on Wednesday about the impact of rapidly developing technology on children's learning and emotional well-being.
He told the crowd of more than 100 people that he isn't so much interested in technology itself, but "how it's re-shaping us", as well as it's social and cultural implications.
McRae placed this growth of accessible technology in the context of choice.
"I never have to be bored," he said. "I can find something on YouTube any time at any place and I can watch it on instant demand."
Although this has the benefit of convenience, McRae says it can also be anxiety inducing.
"There are no perfect choices, but there's this sense that you can get exactly what you want when you want it and that creates a certain amount of anxiety," he said.
"Right now, in North America, we have higher anxiety and depression in the high school and college-age population than in the time of the Great Depression in the early 20th century."
McRae also noted the impact this rapid expansion of access to screen time has had on our attention spans.
The average attention span is now eight seconds and trending downwards.
"It used to be 12 and it was 14 seconds before that," he said, adding that advertising companies are adapting to this by making six-second ads.
Screen time also have a negative impact on quality and quantity of sleep, said McRae.
He recommends abstaining from technology two hours before bedtime.
The average screen time for an eight-18 year old in Canada is six hours and 45 minutes, he said.
For those looking to reduce their dependence on technology, McRae recommends gradually reducing screen time by finding something to fill the void with.
"Think of something where, 'You know what? I'm going to spend three hours a week doing something different. I'm going to pick up some other way to occupy that time,'" he said.
"It's OK to be bored a little bit, because you'll find other ways to occupy that time … Try that and monitor it over two or three or four weeks."
McRae's findings are the result of the Growing Up Digital Alberta research project, which looks at the physical, mental and social consequences of digitization on the province's youth.
The study is the result of a partnership between the Alberta Teachers' Association, University of Alberta, Boston Children's Hospital, Center on Media and Child Health and Harvard Medical School Teaching Hospital.