Bow Island Elks Club continues to dole out money into community
Posted on March 5, 2019 by 40 Mile Commentator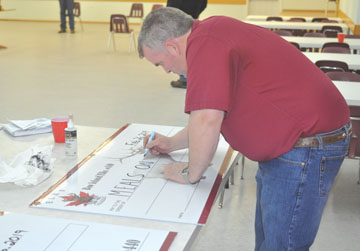 Bow Island Elks Club trustee Wes Laidlaw prepares a cheque for $5,500 that was presented to Meals on Wheels on Feb. 26 at the Bow Island Legion. HALO ($6000) and the 40 Mile and District Food Bank were the other recipeints on the evening. Donations are made possible annually because of the elk's clubs steak supper and auction, where organization buy into live auction and the club determines how much they spent and top up for the donation.
By Justin Seward
Commentator/Courier
The Bow Island Elks Club continues to play a pivotal role in the community as they donated funds back into town organizations after their annual steak supper and live auction event in January.
Recipients of this year's donations were HALO ($6000), Meals on Wheels ($5,500) and the County of Forty Mile Food Bank ($8,000) at the Elks club's meeting on Feb. 26.
On an annual basis for the past 29 plus years, the Elks club takes the money given to them through their yearly steak supper and auction event and donate the money back to various groups.
Shane Lane, the Elks club's exalted ruler, said the organization has to submit a group-funded application where the club will either approve them.
"The community supports us," said Lane, of the giving back.
"The community gives us the funds consciously knowing that we're giving the money back to the community, using our proper forsythe to do so."
Meals on Wheels chairperson Char Brocklesby was grateful to accept the donation because the Elks club has supported them for years and it lessens the group from having to borrow from the Lions Club.
The money will go towards postage, billing, containers and bags for the Pleasant View Lodge where the meals are prepared.
"We pay them a fee of $7 and we charge our clients $6," she said.
"We need to make up that difference. This helps us to do that."
This has been an on-going donation for 20 years because the Meals on Wheels committee has donates an item to the Elks auction.
Quonset Days, a local school for the gymnasium a few years back, donating bikes to the annual Easter Egg and parks to name a few are some organizations that have been beneficiaries in the past. Two $500 scholarships are handed out annually to two students at each of Senator Gershaw and St. Michael's Schools for prospective post-secondary trades students.