Riders for HALO open up throttle in support for helicopter
Posted on March 5, 2019 by 40 Mile Commentator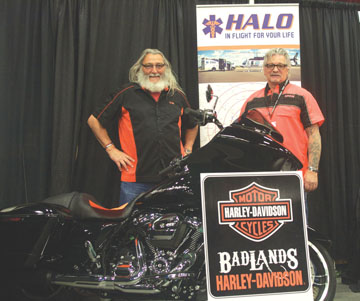 Riders for Halo members Tex Carriere and Geroge Tamtom showcased the Harley Davidson bike that be raffled off at the auction and supper this summer at the Sunshine Home and Garden Show in Medicine Hat March 1.
By Justin Seward
Commentator/Courier
The Riders for HALO is now selling tickets for their second annual bike raffle, where one lucky winner will be drawn for  a 2019 Harley Davidson Road Light motorcycle in July after the poker rally.
The organization started six years ago after seeing one of their own slide off the bike and seeing HALO come to the rescue was what sparked the organization to provide support for the medievac helicopter.
"The helicopter came out and said 'wow that just relieves pressure because everyone is all worried and nervous,'" said Tex Carriere, Riders for Halo member.
"Then you find out it's not publicly funded. To me I always wondered 'Why are our lives in southern Alberta not as important as Calgary, Edmonton or Grande Prairie where STARS flies?' Then with Blair (president Carriere), that's how we started up with Riders for HALO."
Carriere said the organization is getting bigger and the poker rally has to go rain or shine.
Fifteen members make up the organization and between them have 1,500 tickets to sell and can be purchased through the Riders for HALO Facebook page where a member will contact you.
Carriere said tickets are going fast being in its second year.
Raffle tickets are $50.
All the money raised through the raffle tickets, silent auction, poker rally and merchandise goes directly to HALO.
The silent and live auction and steak supper will be held at Ralph's Texas Bar and Grill on July 20.