Live action wrestling slamming into Bow Island
Posted on March 13, 2019 by 40 Mile Commentator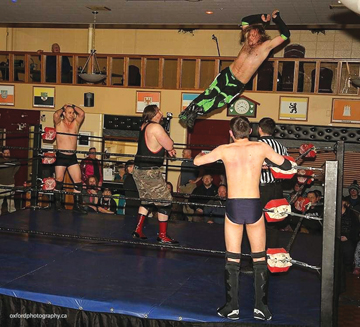 Justin Seward
Commentator/Courier
If you're into high-flying, body slamming wrestling action, the Bow Island Multiplex is the place to be on Saturday night.
The Lethbridge-based Pure Power Wrestling (PPW) will be debuting their professional wrestling contingent on March 16 in the town, which also will be a fundraiser for Bow Island Minor Hockey.
For the past eight years, PPW has been bringing the most exciting live event experience to fans in southern Alberta.
"We're excited to be making our debut in Bow Island, especially while supporting a great cause" said Kevin Farrell, promoter of Pure Power Wrestling.
"We love to support strong community causes, especially ones that promote health and fitness.
Top PPW wrestling stars including Sydney Steele, "Cougar Meat" Kyle Sebastian, "The Bombshell" Angelica, Cruiserweight Champion Brynn Watts, Travis "The Heat" Copeland and 300 Ibs behemoth "The Big Sexy Beast" Bradley Graham will be in the ring on the evening.
The event will model the Stampede Wrestling theme.
Farrel said "PPW is working to revive the spirit of Stamped Wrestling with some of the most talented wrestlers in all of Canada."
"We have an extremely skilled crews of wrestlers that has worked closely with Stampede Wrestling legends like Leo Burke and the Cuban Assassin. We're bringing that classic pro wrestling experience into 2019 with the most exciting live event experience you can have."
Bow Island Minor Hockey vice-president Bill Veilleux says the portion of the funds from the event will go towards bringing in a specialty coach for player development once or twice a week.
"With us being a small organization, any funds that we can receive to help with developing our kids are always more than heartfelt. We're always thankful for them opportunities to come along," he said.
"Anytime we can do that and keep our fees lower and provide the best experience for our kids, we're always going to try what we can to do that."
Tickets are $15 and can be purchased through PPW's website.
The multiplex's doors open at 6:30 p.m. with the main event starting at 7 p.m.