Redcliff library off to a great 2019
Posted on March 13, 2019 by 40 Mile Commentator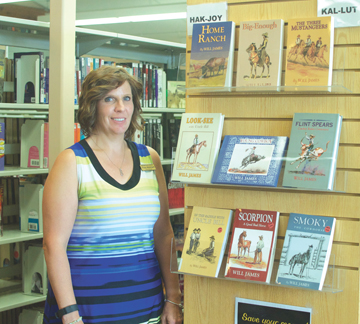 Redcliff Public Library manager Tracy Weinrauch
MO CRANKER
Alberta Newspaper Group
It has been a staple in the community for more than 50 years and the Redcliff Public Library is continuing to evolve and offer more for its patrons.
The building is a place where people can keep warm while finding a new book, browsing the web or possibly partaking in one of the library's multiple programs it offers.
"The start of the year has been really good for us," said library manager Tracy Weinrauch. "We've had some great attendance at some of our events and we're seeing a lot of foot traffic though the doors."
Weinrauch made mention of a number of the group's programs, and said the library is excited about its LEGO Program.
"LEGO at the Library runs every Saturday morning from 10 a.m. to noon," she said. "We've seen really great attendance at these and we hope to continue to see people.
"We have full LEGO kits if people like to follow the instructions and see things through — we also have lots of bulk LEGO people can use if they want to create their own projects.
Weinrauch says the public library is a lot more than just a place to get books.
"One of the biggest things is the public access computers we have — people don't even need a membership to use these," she said. "We do printing, faxing and laminating for a small fee.
"We do Sunday Cinema once a month until the end of May. We have Children's Story time Monday mornings. We have Tween programming and we try to organize that for when the kids are out of school."
Weinrauch says the library is continually working on bringing more programming to the people of Redcliff.
"We want to continue to do more for people and to offer things that may interest new people to come to the library," she said.
Weinrauch says the library gets new books for its shelves every week and that everyone is welcome.
"There's no specific age range we're trying to appeal to — the library is for everyone," she said.