Versatile hemp still unknown
Posted on March 13, 2019 by 40 Mile Commentator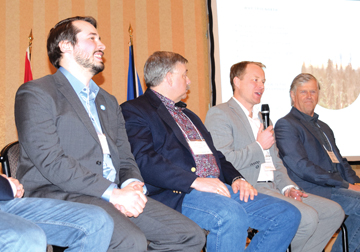 Jon Sookechef, of Invest Medicine Hat, speaks on a panel regarding cannabis and hemp production and processing, during Thursday's afternoon session at the Local to Global Trade conference at the Medicine Hat Lodge. Also pictured are David Howe (left to right), or Aurora Cannabis, Ted Haney of the Canadian Hemp Alliance, and St. Paul County Reeve Steve Upham. -- NEWS PHOTO COLLIN GALLANT, March 7. 2019
By Collin Gallant
Alberta Newspaper Group
There's a few good reasons to consider growing hemp – namely, a few different paycheques coming off a single field crop – but the newly energized sector can still be complex, and intimidating to growers, members on an trade panel said Thursday in Medicine Hat.
Delegates to the Local to Global trade forum discussed the emergence of broad acre hemp as a cash crop and possibilities for handling, production and agronomy services in rural communities.
"It's as big or bigger than the side of the sector for intoxicants," said Jon Sookechef, business development manager with Invest Medicine Hat.
His investment attraction agency helped land two major cannabis facilities to the city in the past 12 months. Aurora Cannabis is now building a massive greenhouse in town and Folium Biosciences will employ 250 workers in a CBD extraction plant and packaging facility.
That facility will accept deliveries from contracted growers.
However, growers which may consider adding hemp to the rotation might have no base knowledge of the crop, no experience handling it, and little idea what it's worth or how to sell it.
Hemp, a cousin to marijuana, has long been known for its usefulness, providing strong fibre, protein and oil rich seed and kernel, plus CBD oil is now sought after as a pharmaceutical and cosmetic ingredient.
It was widely grown in the first half of the 20th century, but was heavily regulated after laws clamped down on marijuana.
Now a key substance in the plant, CBD is increasingly seen as a food.
It doesn't provide a "high" and the Canadian legalization of recreational cannabis also saw rules relaxed for growing hemp, and this spring the U.S. Farm Bill also made greater accommodation.
The goal for many CBD entries is to get established quickly in the sector, but will require ag producers – not greenhouse operators – for feedstock.
"There's a huge potential for investments in different areas," said Theresa Hardiker, of Verge economic development, which represents the counties in southeast Alberta as well as Redcliff and Bow Island.
Bob Bezpalko, the executive director of conference sponsor Alberta HUB, said Alberta has a history of growing the plant, but the future is coming quick.
"We haven't grown hemp in generations and we've lost a lot of knowledge," he said. "We know a lot about growing wheat, barley, oats.
"Hemp? Not so much anymore."
His group promotes hemp-growing conferences in its northern Alberta trade region, advising growers to view hemp in a crop rotation and business plan.
The range along Highway 3 is also considered prime potential for hemp acreage.
"Taber east through Medicine Hat, you have some very professional producers that can get some pretty impressive yields," said Brett Halverson of True North Hemp.
His company provides field services for harvesting and onsite processing service for the crop that can stand six feet tall. In 2018 True North had contracts for 8,000 acres, including areas around Bow Island. That production feeds True North's processing facility near Cereal, and the company is planning to double its acreage in the next few years and add agronomy services.
"It's about deriving value for growers," he said.
Aurora sees "CBD as a huge opportunity globally, that we're very interested in," said David Howe, the company's community relations manager.
Folium will seek to contract growers directly and will sell extracted CBD to manufacturers.
Farmers however, are making three products with a single crop, which can make decisions three times more complicated, said panelists.
Boost the CBD content too high however, and a heavy resin makes combining difficult. Favour fibre too heavily and the stalk becomes woody and thick.
"Nothing here is a by-product, they're all co-products," said Ted Haney, the director of the Canadian Hemp Trade Alliance, which represents growers, processors, manufacturers and researchers.
He said crop genetics research is expanding quickly, but beyond planting, growers also should realize no general international market for hemp like there is for canola or wheat.
"It's a private market," said Haney, who adds that most of the agronomy for traditional crops are handled by seed dealers. That could be picked up buy buyers in the hemp sector.
"My advice is to get a relationship with a buyer – a contract would be best – but just a relationship allows you to ask what sort of agronomic help is available."