Forty Mile road bans in effect
Posted on March 19, 2019 by 40 Mile Commentator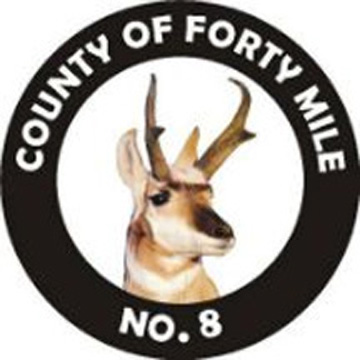 Scott Schmidt
Alberta Newspaper Group
Road bans went into effect Monday morning in Forty Mile County.
Reeve Steve Wikkerink says the public works manager made the recommendation at the March 13 council meeting. With the weather warming right up this week, road protection during the thaw is essential.
"We started putting the word out to ratepayers (last week) that the bans would be on," Wikkerink said. "It never suits everybody but we have to protect our roads.
"We put on a 75 per cent road ban — in the trucking world that basically works out to about half a load."
There is still necessary load activity during the ban, so those with work to do can put bonds down on roads they need to move something on. The county inspects the road before and after the haul, but Wikkerink says he's never seen a case where that has resulted in damage.
"With us putting them on now, and with nice weather coming, hopefully by the time farmers are getting into seeding mode, we can pull (the bans) off," he said. "Once the frost is out, then the guys can go back to full weight."
Nemiskam Road, which runs from Highway 3 south to Highway 61, will remain open as normal, as will stretches of highway near Foremost and Burdett.
"We try to accommodate where we can and leave a few roads north and south open so guys can get there stuff up to Highway 3. Hopefully the bans are on for three, maybe four weeks, and then we can pull them off."
Tax assessments
Benchmark Assessment Consultants, which handles property assessments in Forty Mile County, presented results to council for 2019 property tax purposes.
Residential property values increased this year to point where the county will have to drop its mill rate in order to avoid a major tax hike to coincide. If approved, it would the second straight year the county has worked the mill rate to keep taxes down.
"It looked like we were going to get a seven per cent increase in taxation just on the residential side," Wikkerink said. "I think what we're going to do when we finalize our budget here … is propose to drop our residential mill rate by half (a point)."
That would take Forty Mile from a six per cent mill rate to 5.5 per cent. The proposal should come at the county's next council meeting and is expected to offset any accounts that increased due to assessment.
"We're just trying to keep it as level as we can," the reeve said. "We're just trying to help out our residents a little bit by making it as much of a mill-rate freeze as we can."
The hope is that Capital Power's Whitla Wind Farm will provide a major boost to tax revenue by 2021, so Wikkerink says Forty Mile is trying to keep things as even keel as possible for residents until then.
Regional drainage
The St. Mary River Irrigation District has recently been putting together a regional drainage map, and has identified several projects between Cardston and Medicine Hat that could be proposed to help control flooding issues.
Wikkerink says Forty Mile County is involved in preliminary discussions about a possible drain coming off the main canal, south of Taber, going to Taber Lake and then onto the Old Man River — a top priority on SMRID's wish list.
Wikkerink says with some letters of intention, funding applications to provincial and federal governments have been made, with the province already agreeing to contribute support. Wikkerink says that should go a long way to securing federal money, but stresses that government assistance would not cover the entire cost.
The county, as well as neighbouring jurisdictions — including the City of Medicine Hat and possibly the Town of Taber — would likely have to work out remaining funding, which is not something anyone has committed to at this stage.
Wikkerink expects more to be discussed on the issue in April.