MacPherson made the most of chance with hometown Tigers
Posted on March 26, 2019 by 40 Mile Commentator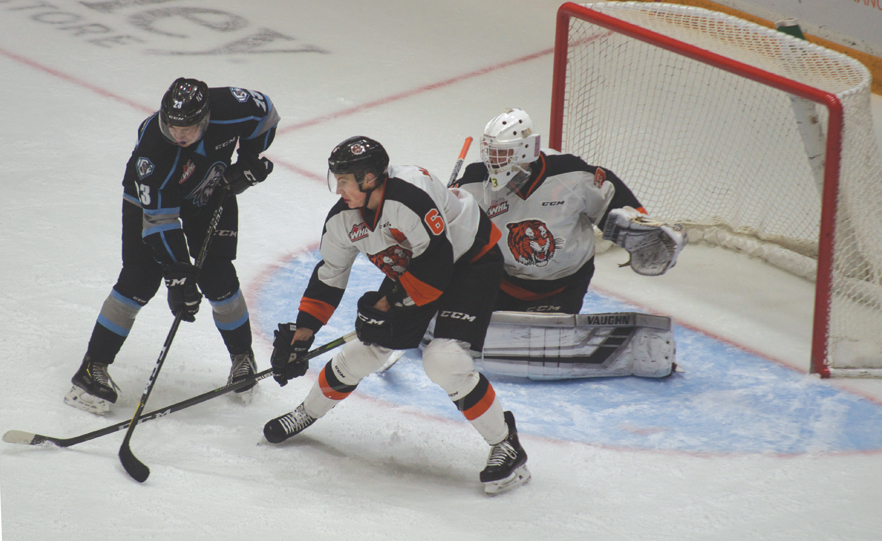 Commentator/Courier File Photo Redcliff's Dylan MacPherson is off to Springfield, Mass. this September to play for the Florida Panthers' affiliate on a one year pro contract.
By Ryan McCracken
Alberta Newspaper Group
He may be the underdog for the first time in his career, but Dylan MacPherson is still happy to avoid Dauphin for his final Western Hockey League playoff run.
The Tigers embark on their third consecutive post-season Saturday in Edmonton against the red-hot Oil Kings. While Edmonton enters the series with an 11-game winning streak and a Central Division banner MacPherson says he's confident that his Tabbies have turned things around in the nick of time.
"I think it's going to be a real good battle and it's nice to get out of Dauphin a little bit and play in Edmonton," said MacPherson. "We went through a bit of a tough stretch but we got in and we get to stay in our division playing Edmonton. We've had really close games with them, going to overtime twice and going to a shootout."
The 20-year-old Redcliff product has been a vital member of Medicine Hat's blue line for the past three seasons after getting called up to the Tigers from the South East Athletic Club's midget AAA squad in 2016. As the lone local on Medicine Hat's squad for the entirety of his tenure with the team, MacPherson says he knows better than to take it for granted.
"It's amazing getting to live where you're from," said MacPherson. "I'm really grateful that they gave me the opportunity that they did, to end up playing major junior hockey. I'm just grateful that I got the opportunity and now I'm excited to go into playoffs."
That opportunity led to the prospect of more than just a major junior career. After logging 22 points with a plus-3 rating through 67 games last season, MacPherson was invited to compete with the Florida Panthers at their training camp alongside teammate Linus Nassen. The pair earned a subsequent invitation to join the AHL affiliate Springfield Thunderbirds for their main training camp before both were returned to the Tigers early this season.
"It was nice, going into development camp he was the only guy I knew," said MacPherson, who finished with 12 points and a minus-six rating in a shutdown role this regular season. "Getting to live with Linus in Springfield, it was a lot more comfortable, somebody you've known for a year, that you've spent a lot of time with on the bus and in hotels.
"It just made it a lot more comfortable and made going to a camp like that a little less stressful."
Tigers head coach and general manager Shaun Clouston says MacPherson's work ethic has opened the door for many of the opportunities he's been given, and allowed him to thrive each the chance arises.
"It's a great success story and we're glad we've got him. He's a leader and an exceptional skater," said Clouston. "It's a story that a lot of young players can look at. He wasn't drafted, he was listed late and started in the league very late – he really didn't play until he was 18, he played a few games at 17 – but he played well enough through his 18 and 19-year-old seasons to be a real easy choice for an overager."
MacPherson closed the book on his regular season career with six goals, 37 assists and a plus-12 rating through a total 186 games. While he's not one to take over a highlight reel on a regular basis, MacPherson says that's fine with him.
"I like blocking shots, I like shutting down teams top lines. That's what gives me pride. Other guys like scoring goals – which is good, you need both – but I think I've matured as a player and I've really learned to shut down teams top guys," he said. "I think I was obviously like anybody coming into the league, young and inexperienced – but I think I've developed my game to be a good shutdown defenceman."