Redcliff students taking on whole new wave of learning
Posted on March 26, 2019 by 40 Mile Commentator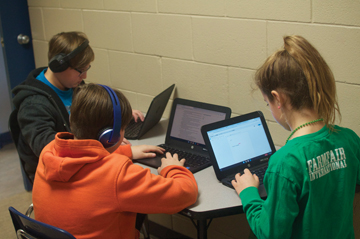 Commentator/Courier Photo by Justin Seward Margaret Wooding School students working on the Chromebooks recently.
Margaret Wooding School was the first Prairie Rose School Division (PRSD) institute to covert to Chrome Books a couple years ago.
The school replaced their computer lab with Chromebooks, which principal Craig Corsie termed as a "pared down lap top," and the students have effectively caught on to the concept since learning about this opportunity.
"The benefit of a Chromebook is it's a very simplified operating system. It doesn't carry on it any word processor or any other systems other then what's on the internet.
"You're actually working on the cloud (apps). You're working through Google education tools."
Students are using Google Docs as opposed to Microsoft Word or using Google Slide rather then PowerPoint, he added.
Students now have the ability to do their school work without any limited access.
"We never have to worry about students, if they've done their work on here, they've always got access to their homework," said Corsie.
"If they want to do some of their work at home, they can work on it at school, save it, and then open it up at home. The tools are accessible from any internet connected computer in the world."
Students can be seen using the Chrome Books for Social Studies research, as a Language Arts writing tool and offers strong writing supports.
Programs utilized include Flip Grid and Kahoot to name a few to provide the kids the opportunity to demonstrate their learning in a variety of ways, added Corsie.
"There's some really neat things they can do online that touch in on the newer ways of communicating," he said.
"It's important as a school that we monitor and teach the kids how to use this digital technology in a appropriate and ethical manner. That's one of the goals in incorporating technology in our program as well. Teaching our students to be good, digital citizens."
The school runs a digital technology program and has focused in on students as early as Grade 4 to develop technology skills for the kids through coding, typing skills, research skills, digital literacy, digital citizenship, which is all a part of the learning process.
He did caution that the newer addition to the school will not take place of textbooks.
"Teachers need to be in front of students. Technology can't take the place of good instruction," said Corsie
Student Teagan Kutanzi said "It's kind of smarter than a textbook because it has more on it than a textbook."
PRSD instructional coach Cammie Kannekens had one of the original chrome pilot carts and called the transition from computers to the chrome books "revolutionary."
"The number of learning opportunities that opens up, it's huge," she said.
"I could do something and they would have a 15 minute task and we'll hop on the Chromebook.
"We'll do a formative assessment. We'll play a review game. There's some fun, fascinating games we can do. (In) 15 minutes we're done. We send the cart somewhere else and we continue. I never would have gone to the computer lab to do that."
All of the school division has the Chromebooks available.