Local Life Link helps build hope in India
Posted on April 2, 2019 by 40 Mile Commentator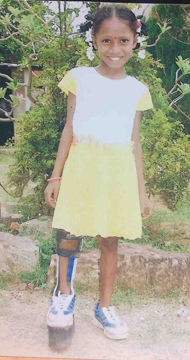 Photo submitted A girl from India after surgery.
By Stan Ashbee
Alberta Newspaper Group
By Stan Ashbee
Southern Alberta Newspapers
There's an old proverb that says, "charity begins at home." Even though it means, paraphrased, taking care of family and those close by before helping people far away — charity, in this story, begins at a locally built home that is sold with its profits going to help those in need elsewhere, but that's the beauty of it — funds raised to build one hospital to help many.
Redcliff's Gary and Norma Demke are an integral part of a few volunteers behind a charitable initiative that builds and sells houses and sends all the profits to a hospital in India through Life Link International. The volunteers, which also includes Randy and Grace Liske, has just completed work on a third house with the hope to raise funds to help complete the third level of the hospital overseas. Hospital construction is ongoing with between 50-70 patients per day moving through the completed levels. An Open House for the recently completed future home for sale is scheduled for April 6-7 in Medicine Hat in Somerset Cove.
According to a letter submitted to local media from Randy, the project started with a visit to India by Randy and Grace during a short-term mission trip, as the couple stayed at the Bridge of Hope complex in Gotlam (located in the poorest province in India — Andra Pradesh). Bridge of Hope, the letter stated, takes in underprivileged children who have lost their parents and they are fed, looked after, and educated.
During an excursion, the letter explained, Randy and Grace visited a village where they met a small girl named Yerramma with a deformed foot, which twisted the opposite way than normal. The couple were told there are a lot of birth defects in the village due to malnutrition. The girl, at the time, could have had an operation to fix the leg, but the family couldn't afford the approximate $500 for the procedures. Money was donated to the worthwhile cause by Gary and Norma and the surgical procedures were a success, as the girl is now a teenager and is studying to be a nurse. From those humble beginnings, an idea to build a hospital through building houses and selling them to donate the profits was born, through Bridge of Hope.
"We thought wouldn't it be great to help kids like her and others," Gary said.
Gary said he has been in construction for 40 years and he has been working on the Life Link project since he retired 10 years ago.