Barrel racing life suits Cora Wutch perfectly
Posted on April 10, 2019 by 40 Mile Commentator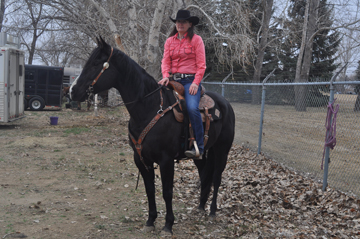 Cora Wutch and horse Lou at the Broncs and Honky Tonks indoor rodeo this past weekend.
By Justin Seward

Commentator/Courier
When Cora Wutch got up on the saddle at the age of nine, she knew she wanted to be a barrel racer.
The Cypress County cowgirl has made her hobby a full-time job since 2012 and was in the midst of preparing her horse Lou for another Broncs and Honky Tonks indoor rodeo Friday.
"The professional rodeo, they treat you like family," said Wutch, who put up a time of 13.696 seconds in the slack Friday.
"I don't have a preference for indoor or outdoor. I love my job and I go wherever it takes me. When you're in the zone to do your job this all gets blocked out."
She first started riding ponies at her neighbour's property as a young kid and it was when his daughters started that Wutch really found her passion for barrel racing.
"I start doing jackpots," she said. "I still do it now for young horses and my season horses to keep them refreshed and get them ready for rodeo season."
Local clubs such as the Saamis Barrel Racing Club and the Alberta Barrel Racing Association provide local jackpots throughout the winter months to keep the horses sharp, she added.
"It's just been fun," said Wutch. "Now I've got my daughter involved. I've got grand-kids coming up that are ready to get involved. It's just a big family sport."
There has been an increase in competitive edge over the years.
"A lot of really good bred horses," said Wutch. "We've got some fast horses and there are some right off the track. You get those running bred horses with some cow bred in there. They can really cover the ground and turn. Their times are getting fast.
"Just watch the mind games because they can get in your head and you can get frustrated. But trust your gut."
She continously practices by pasture riding, hill riding and keeps herself fit as a rider.
Both her horses should be well conditioned for most competitions because now with both her kids grown up, Wutch treats them as if they were her own children.
"Each year I feel more confident. My horses are getting stronger and I won't stop what I'm doing."