MacPherson gets pro deal
Posted on April 10, 2019 by 40 Mile Commentator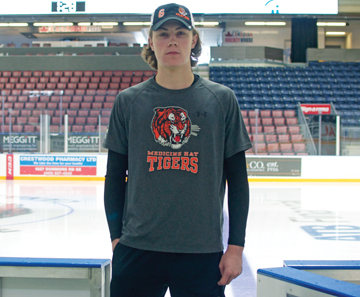 Commentator/Courier File photo- Redcliff's Dylan MacPherson
Ryan McCracken
Alberta Newspaper Group
Dylan MacPherson is going back to Springfield.
The 20-year-old Medicine Hat Tigers defenceman earned an amateur tryout with the American Hockey League's Springfield Thunderbirds Tuesday and headed south with the goal of playing his first professional game with the club.
"It's a great story," said Tigers assistant coach Joe Frazer. "It just shows you don't have to be drafted in the bantam draft. As long as you keep improving and keep improving pro hockey still is a chance for you."
MacPherson, from Redciliff, joined up with his hometown Tigers as a free agent in 2016 and before long emerged as one of the team's top shut-down defencemen . He went on to compete in 186 games while wearing the orange and black.
"I didn't really expect to play here, but I'm grateful that I got the opportunity to play here. There's a lot of tradition and it's an honour to wear the sweater," MacPherson said following Sunday's season-ending 4-3 overtime loss to the Edmonton Oil Kings in Game 6 of the Eastern Conference quarter-finals. "When I was 17 I didn't know where I was going to be at for the following season, but I got to sign and play here and still stay at home, which is great. I just matured into my game a little bit, and being here really helped me. I got a bit of a pro look and now I'm looking forward to trying to go pro."
The Thunderbirds – affiliate to the Florida Panthers – have had their eye on MacPherson for a while. He earned an invitation to Panthers development camp last summer, then a trip to their fall camp before being shipped to Springfield for main training camp in September.
The Thunderbirds host the Hartford Wolf Pack tonight.
"I think he'll do great. There's not a lot of pressure on him. They want him to just come in and just be who he is, a great-skating defenceman who can shut down the other team's top guys, play the penalty kill, have a great first pass," said Frazer. "They're looking for him to be a little bit physical as a five-six guy. It'll be a great experience for him. I think they have six games, so he said he might get in two or three."
MacPherson set himself apart in the WHL as one of the league's strongest skaters, something that likely drew eye of the Panthers, and the ire of opposing forwards.
"He's calm, he's fluid, he doesn't waste any movements while he's skating. He obviously has great top-end speed," said Frazer. "He's one of the best skaters in the league and that allowed him to play against other teams' top players every night, from 25 to 28 minutes."
That responsibility left MacPherson staring down Oil Kings captain and signed Columbus Blue Jackets prospect Trey Fix-Wolansky through the first round of the playoffs. While the Central Division champion Oil Kings ultimately prevailed, MacPherson managed to hold Fix-Wolansky – who posted 102 points in 65 regular season games – to a single point through the first three games while preventing him from scoring a goal until Game 5.
"Him and Trevor Longo got the bulk of the minutes, probably 95 per cent of their shifts were against Fix-Wolansky," said Frazer. "He's a heck of a hockey player, Fix-Wolansky, he signed an NHL contract for a reason. Dylan did a great job, our penalty kill was really good against him – and if you watch our penalty kill I'm waving for him to stay on the ice, so he was out there for about 1:50 of the two-minute penalty kill. He's just a heart-and-soul guy, a warrior for our team and he'll definitely be missed next year."
While his final year in the Gas City was cut shorter than desired, MacPherson says he will remember this year's roster as one that held strong as a unit through a season filled with adversity.
"We had a little bit of a rough start at the beginning of the season, but we came together," he said. "We stuck together. There was no chippiness or anything between the men, which was great to see. We came together and pushed through and made playoffs."