Recliff ball diamonds to see upgrades
Posted on April 16, 2019 by 40 Mile Commentator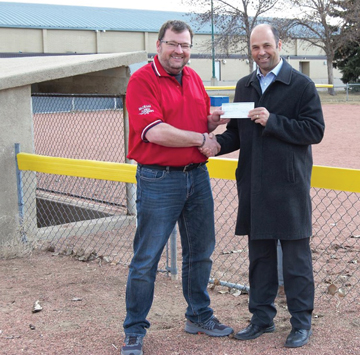 Town of Redcliff Facebook Page Photo Brian Stehr (left) of the Medicine Hat Little League Association receives a cheque from the Town of Redcliff's director of community and protective services Derrin Thibault as a part of the Community Facility Enhancement Program on April 2
By Mo Cranker
Alberta Newspaper Group
Redcliff's ball diamond is going to be getting some upgrades later this year thanks to a grant obtained by the town through the Umpires Association.
The town announced the grant Tuesday in a Facebook post and director of community and protective services Derrin Thibault says the money will go to good use.
"The baseball facilities are old, so bringing up parts of them to 2019 will be nice for us," he said. "We're not dedicating any of the money to the fields, like some people may think, but we're doing an upgrade of the bathroom facilities and potentially some of the concession.
"There's some outside apparatuses like a mobile drive-in screen and we'll look at that as well."
The grant is for roughly $21,000 and the town applied it for some time last year. Thibault says parts of the town's baseball facilities are showing their age.
"I've only been here since September but the washrooms look like they're from the 1980s," he said. "It's old."
The field is used by a women's softball league and it hosts other teams and games throughout the warm months of the year.
"We found out we had received this in the last week of March," he said. "It's exciting for us.
"It's not a ton of money but it's a good chunk that we'll put to good use and we're thankful to have it."
There is no timeline for when construction will begin but Thibault says the town does not want to interrupt any games.
"We don't have a day we can point to, but we don't want to do this during the season," he said. "I think this is a good post-season project.
"I expect this would be a five or six week project."