Southland's rural bus service ready for the first route
Posted on April 16, 2019 by 40 Mile Commentator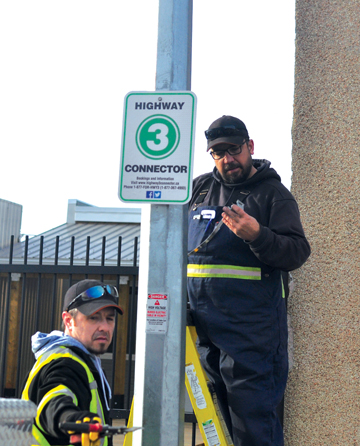 Commentator/Courier File Photo
By Justin Seward
Commentator/Courier
Medicine Hat Transit crews started early Wednesday morning along the Highway 3 corridor putting signs up in preparation for SouthlandTranportation's rural bus route pilot project which began on April 15.
"I expect it to be busy at the beginning and then it will kind of plateau," said Simon Amos, the City of Medicine Hat's manager for community access.
The "Highway 3 Connector" will stop in 11 centres along the Highway 3 corridor and scheduled to have two return trips each weekday from Redcliff to Lethbridge.
"Everything is going according to plan," said Amos.
"We've had a lot of people online checking out the routes, the prices and getting a lot of telephone calls through Southlands. We had a meeting last week and they were telling me they were getting (alot) of inquiries, a lot of college students and seniors wanting to go on day trips to Lethbridge."
"I'm hearing a lot of positive things of people having the ability to be mobile again."
The project is about connecting those people in the rural communities with larger centres like Medicine Hat and Lethbridge, he added.
"We're hoping that people utilize the system," says Amos.
"It's important to connect rural communities to larger centres to give them the same opportunity that those people who live in centres do."
Amos worked with the rural municipalities' staff on bus stop locations and Bow Islanders can get on the bus in front of the Community Resource Centre.
"The rural communities came up with the best spots that fit their needs," he said.
Bow Island Mayor Gordon Reynolds says the service is going to fill gap in the community after Greyhound shut down operations in the town a number of years ago.
"I hope residence in the community find it useful and fills their needs," said Reynolds.
"Time will tell if the ridership builds and hopefully it's successful."
The morning route will depart Redcliff Public Library at 7 a.m., arriving at the Medicine Hat bus terminal 20 minutes later before heading west bound for drop offs and pick ups at Seven Persons, Bow Island, Burdett, Grassy Lake, Purple Springs, Taber, Barnwell,Coaldale and Lethbridge before heading back east at 11 a.m. with an expected arrival back in Medicine Hat at 2:15 p.m.
The bus will then reconvene in Redcliff at 3 p.m. for an evening trip on the same route before being back in the Gas City at 10 p.m.
Riders will be able to utilize the service for the first two weeks at no cost.
Bookings and more information can be found at http://www.highway3connector.ca.