Gershaw students have learning experience with Student Vote
Posted on April 23, 2019 by 40 Mile Commentator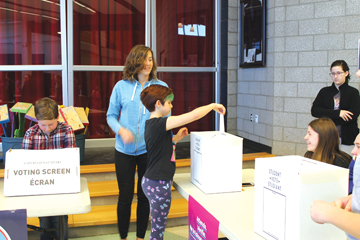 Photo Submitted by Cindy Hume Grade 4 sutdent Jayia Short drops her ballot in as Grade 12 student and Nickola Haugan looks on.
By Justin Seward
Commentator/Courier
Senator Gershaw School students were a part of the more than 165,000 students province wide who participated in the Student Vote on April 15, prior to the provincial election on Tuesday.
Student Vote allows for an authentic learning experiences that enables teachers to bring democracy alive in the classroom and allows students to learn about government and the electoral process, and debate important issues facing the province.
This year's program included a focus on developing news literacy skills in the digital age, the integration of NewsWire resources, encouraged students to learn how to fact-check online information, assess the credibility of sources and become more critical of consumers of information.
There were 143 students that voted at the school in a mock election format.
Gershaw's Dacey Timmons, Taylor Verhoeven, Adrianna Dekker and Domonic Wyllie oversaw the process working the polls as the younger students cast their votes.
"Basically we had different groups of kids come and they would get to see what the whole voting thing would be like for when they're older, said Dekker, who was a poll clerk and she handed out the ballots to the students.
She found there was definitely less pressure because other students would try to suay each other to vote for a certain candidate, but are not quite educated as much on the political platforms at their age.
"Comparing the results," she said of what interest her in the Student Vote.
"We're a small town farming community, the NDP was out right away."
Dacey Timmons was a deputy returning officer who counted all the votes at the end of the day.
"I really didn't want to screw up counting the numbers," he said.
"It was a lot of pressure. It actually went by pretty fast. We just tally up what party it was. I was with Liberal, so I only tallied eight votes."
For Wyllie, he was a scrutineer that made sure everyone was in the proper lines and making sure student voters were not talking about which candidate they would be writing an 'X' beside.
"Everyone listened really well and they all got idea because they saw where everyone else was going," he said.
He learned from being around many students that some kids do take the election seriously and have gathered quite a bit of information about the party that either them or their parents liked.
"It was a good thing to do because you got to see what people do around the province (and) how much work they're putting in," he said.
"Even for our small town it was quite a bit of work too."
Taylor Verhoeven was an information officer and made sure students were in their proper ballot areas.
"We learned a lot that your vote counts," he said.
"If you don't vote, something is not going to your way."
Teacher Ali Vos ran the Student Vote and said experiential learning is important for the students because it is something they will remember and move forward with in their learning practices.
"We had excellent participation," she said.
"The whole purpose of the Student Vote is to encourage students to become familiar with the process and to understand the value of the process so when they are eligible they go out consciously and actively participate as citizens in their community."
Student Votes were broken down from the school as well as the local riding and all the schools that participated across the province's totals.
Senator Gershaw's results included the UCP winning the election at 60. 8 per cent, Alberta Party (25. 2 per cent , NDP- seven per cent, and Liberal Party 5.6 per cent
Taber-Warner riding:
UCP came out on top at 62.2 per cent. Alberta Party (22.3 per cent), NDP (9.3 per cent), and Liberal Party (6.2 per cent)
Province-wide:
UCP (36 per cent-49 per cent), NDP (30 per cent-35 seats), Alberta Party (18 per cent- three seats) and Liberal Party (5 per cent- zero seats).