I.F. Cox School students feeling energized after lunch
Posted on April 23, 2019 by 40 Mile Commentator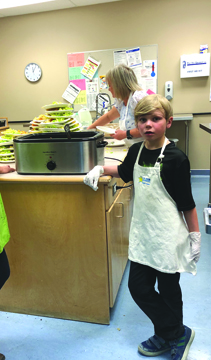 Photo Submitted by Catherine Usher Ezekiel Allen was one of the prep chefs recently who helped chef Destiny Currence in I. F. Cox's School's Nutrition Program recently
Justin Seward
Commentator/Courier
Redcliff's I.F. Cox School students may have more of a boost in afternoon classes after a healthy lunch that has been provided by a province-wide nutrition program for the last two years.
The government provided money to school districts around the province for different nutrition programs.
It was the school's previous principal Melissa Gogolinski and Prairie Rose School Division assistant superintendent Reagan Weeks who applied for a nutrition grant with the idea of providing students with lunch.
"Now we're going into our second year where every child that is in the building full-time gets a lunch," said current principal Catherine Usher.
"A well-balanced, nutritious, sometimes hot, sometimes cold lunch they can take advantage of. Not every student takes advantage of that because maybe they're picky eaters and the parents decide they'll send a lunch."
The meal always includes a fruit or vegetable and some sort of protein.
Sandwiches are provided a couple days a week with fruit and vegetables, soup is provided one day a week and Fridays are a 'special' hot meal such as sausage and perogies.
Usher says the benefit of having the nutrition program in the school is the kids are exposed to more food than they might be at home.
"We as educators know they're getting a well balanced meal half way through their day," she said.
"Many of the teachers going into the second year of this, (said)they do notice a difference that children are more alert in the afternoon, more prepared to learn simply because of the healthy meal they get."
The program does include chef Destiny Currence who prepares the meals and through the school's employment program, Grade 3 students get to apply for different jobs in the school.
"One of the jobs is called a prep chef," said Usher.
"What those children do is they're helping Destiny in the kitchen putting the food out on plates, which happens for three-quarters of the meals that are served. Soup is the only one that goes to the classrooms in a big soup pot."
However, the challenge will be to see if the new government will re-new the program as the grant was only good for two years.
"Lots of the parent feedback is that they would be sad if we lost this," she said.
"At this point, we don't know if we're going to get any more money with an election. I think if we do, we won't know for a few months. The hope is there is enough left over that we can offer it again next year."
I.F. Cox School's parent council does offer a modified breakfast program which offers fresh fruit, cereal and yogurt in the mornings to those students that miss the first meal of the day.