Little Plume Church turns 100
Posted on April 23, 2019 by 40 Mile Commentator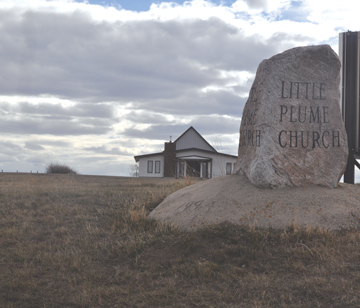 A church off the Eagle Butte Road has turned the page on its Centennial year in 2019.
Little Plume Church was built on Feb. 24, 1919, 12 miles south of Dunmore by farmers who were on a break between seeding and harvesting.
However it was in the spring of 1921 the church had burnt down. Thankfully there was insurance on the building, which enabled the people to rebuild. Construction began following seeding and a dedication was held on Aug. 7, 1921.
Arvid Kurpjuweit was born and baptized in the church 64 years ago and now sits as the board chair for the church.
"I know churches were a method of recreation of social structure back in the Horse and Buggy days in the 1920s," he said.
"Even if you had a car, there were no gravel roads. It was hard to make five or six miles. People would come to the church on the horse (and) five miles is still a long day. That's why there used to be a church on every Township Road.
"This is the one that's here. The survival rate of country churches is 50 years. Little Plume has done well to be here"
Kurpjuweit says for Little Plume to be standing this long is because all the people who are involved and get along as if they were all family.
"We used to be literally all related," he said.
"My mom and dad were here. My dad's parents went here, my mom's parents went here. I'm sure that's how my mom and dad met . Their relatives on both sides went. It ended up that everybody in the church is somebody's cousin. Marriage drew the bond that much closer."
Attendance at the church has dropped from consistently drawing 50 people at one time to 25 on a good Sunday.
"This is probably one of your more down to earth churches that is plain and simple," said Kurpjuweit.
"But when you have 20-25 people, you don't have a lot of to draw from for an orchestra, even pianist are hard to come by."
The church has reached historical points over the years.
– Little Plume Church was a field of service under the Evangelical Church of Canada that included churches in Medicine Hat, Gros Venter and Newburg. Later the country churches became a separate field from the city church and the Wisdom church was included in the field of service.
-Electricity was first installed in the church in January 1955 at a cost of $490.
In January 1957, the pastor's report stated "We see a great need for some improvements at the Little Plume Church." " We should by all means have a different heating system. I am hoping that in the year 1957, we will be able to make a start on some of these improvements."
Remodelling plans included making a basement and moving the building on to the basement, installing a furnace, making Sunday School rooms and building on a 10 foot addition which would be a new platform.
-In the years to come, Little Plume faced its challenges as country churches were closing, the church could not hold on to a full time pastor and had a pastor from the city run the services.
In 1971, the church's congregation requested the conference terminate the arrangement from the city church and requested that someone who is otherwise employed be the pastor.
-Lightning struck the church in 1975, causing a big hole in the roof and tearing siding off the outside.
-An expansion to the front of the building which included an entrance, office, nursery and washrooms on the main level and a kitchen and fellowship hall in the basement. A dedication of the addition was made in June 22, 1980.
Popular Pastor Vern Schorr was appointed pastor in July 1983 and he was one of the three ministerial candidates that was recommended to the conference by the church.
However, sadness struck the church as Schorr was killed in a car crash on June 30, 1994 after serving 11 years in the congregation.
A council meeting was called on July 7, 1994 and it was agreed upon that a cabin be build at Whispering Pines Camp in memory of Schorr.
Claire Rattai and Corly Goltz were appointed as his replacements in October. Goltz resigned in 1996, with Rattai resuming full pastor duties.
By the year 2000, the church had difficult decisions to make because it was faced with the possibility of closing.
Today the Little Plume Church still has it's Sunday services and hosts community events such as musical recitals and polling stations.
"It is always an exciting event when a person celebrates their 100 year old birthday," said current pastor Mike Leist.
"Usually such a celebration is accompanied by accolades from every corner. Here in Canada, it even includes a card if congratulations from the Queen. And for a church to celebrate its Centennial milestone, is no less significant.
"A Church is not just a building, but it is especially the family of those who regularly meet together in that place to worship God."
The 100th anniversary will be on Aug. 11, 2019 with an extended morning service beginning at 11 a.m., followed by a beef on a bun lunch.