HALO Rescue looks to farmland for new donation initiative
Posted on April 30, 2019 by 40 Mile Commentator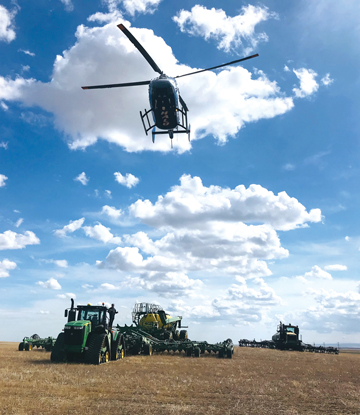 Photo Submitted HALO announced a unque fundraising initiative- farming with proceeds from the annual harvest contributing the annual budget.
HALO Rescue has turned to donated farmland for a new fundraising initiative, with the announcement on April 23.
The #HALOGROWCROP will be for HALO Rescue to receive the proceeds from the harvesting of 160 acres of Hard Red Spring Wheat Variety on a quarter section of land on the Kuizenga Farm
The inaugural initiative was made possible thanks to local partners who will seed, harvest and nurture the piece of land on the farm."This was a really unique opportunity to do something to help support the program right in the areas that we respond in," said Paul Carolan, HALO representative.
Carolan added that the initiative was a great way to create something unique as there are many different fundraisers out there and so many people in need.
Carolan says there were no prior plans for the initiative until their board meeting on April 16 when the members came together and discussed new fundraising opportunities over dinner and awaiting the election results.
Several farmers and ranchers sit on the board and it was through their industry contacts and ideas around the table that the program was going to start up.
"After that it was hard working, talking to local suppliers, landowners and people that could help," he said.
"It just goes to show you that the program is extremely well received and believed in this area because we didn't have to make a bunch of phone calls and follow ups to make this happen. It came together literally in a week."
The dry weather conditions did factor in making use of the farmland for the donation.
"Farmers and ranchers deal with that all the time," he said.
"We have pretty good experience on the board as far as that's concerned. We picked a pretty hardy wheat variety that we think will be OK."
The seed was donated by Tony Crooymans &Sons and Tony Kuizenga. Fertilizer was contributed ICI in Barnwell, chemicals by Taber Home and Farm Centre and the agronomy by Promax Agronomy in Lethbridge.
The quarter section of land was seeded on announcement day and the Kuizenga Farms will be in charge of the upkeep.
HALO Rescue will be monitoring closely so board members can get out and put a measuring stake in the field and photograph the progress.
Carolan estimates with the harvest that HALO Rescue will receive between $60,000 and $70,000 in revenue to go back in the program.