Western Financial always thinks community
Posted on April 30, 2019 by 40 Mile Commentator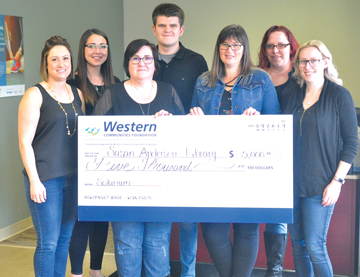 Commentator/Courier Photo by Justin Seward Western Finiancial's Lori Hutcheson (left centre) habns over the cheque for $5,000 to Bow Island librarian Kathryn Van Dorp (right centre) on April 17.
Bow Island's Western Financial gave back to the town in a tremendous way on Wednesday after distributing an Infrastructure grant of $5,000 to the library to help with their Solarium project.
"They are building a solarium and continue to work on that project and they got a lot of it done," said Lori Hutcheson, acting branch manager.
"But they still needed some support to do the finishing touches on it. It's a part of the community. It's a great place for people to gather. They offer programs in the summer to our children in the community."
There are 180 branches in the bank's loop and each location can apply for the $5,000 infrastructure Grant program in support of a local major infrastructure project for renovation or construction of a community's publicly owned asset.
"We rely on the clients that come into our office to keep our jobs viable and here in the community,
"We provide an important service to the community and therefore we find it really important to give back to community and provide support to the different groups and charities within Bow Island."
Hutcheson said employees talk about blending into the communities frequently at a corporate level and ways to take the opportunities to strengthen their ties to make people aware of their presence.
This is the second time in the last five years, the Bow Island branch received this grant, having previously donated to Senator Gershaw's greenhouse in 2017.
Since this initiative began in 2002, $3 million has been raised through the community foundations to support organizations.
Western Financial has 180 branches and each year locations can apply for A $5,000 Infrastructure grant which then will be distributed to a local business within the community.