Hats on initiative was in full swing at Eagle Butte
Posted on May 7, 2019 by 40 Mile Commentator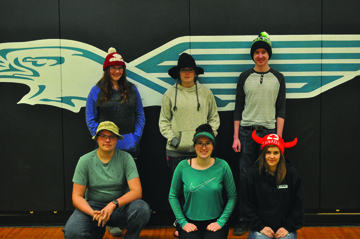 Commentator/Courier Photo by Justin Seward Eagle Butte students Back row: Hannah White, Angel Cole and Zach Sumners. Front row: Wesley Ewert, Caitlyn McLean and Nikki Fennell were all in the Hats On! for Mental Health on May 1.
By Justin Seward
Commentator/Courier
Many students at Eagle Butte High School wore their hats as a part of the annual province wide Hats On! for Mental Health on May 1.
The Alberta Teachers Association hosted initiative is to raise awareness of the importance of good mental health. Schools loosened their hat rules and encouraged students and teachers to build an understanding on mental health and the benefits of removing the stigma surrounding mental illness.
Other then wearing caps, Eagle Butte's student council printed business cards called 'Help is out there,' which were handed out to students and has multiple mental health hotlines for peers to use in a time of need.
"On the back sides of the cards, it chairs the student's 24 hour crisis line resources for them," said school support counselor Heather Laturnas.
"Each student at our school will get one of these today and will be able to keep (it) in their wallet and if they or someone they care about is in need of support that they have those resources they can access at any time. I think our students believe mental health awareness is important."
Laturnas said mental health is always an important topic and there is a desire to reduce stigma around the issue.
"I would say that there is improvement in that area," she said.
"I think there is still work to be done. The more we talk about and normalize those discussions, the safer environment we create for individuals."
Students learn more about the topic through their Communication classes with guest speakers, she added.
Student council chose McMann Youth Hub Outreach program as the recipient of the funds raised from their annual auction fundraiser this year because the organization places a focus on mental health needs and youth homelessness.
"It (was) really important (to)students this year that they chose a charity that supported mental health," she said.
"They chose McMann because of the work they do in Cypress County and their willingness to support our school and to be able to work with families and youth that live in our community."
McMann was more than grateful to be the nominee for the funds from a school the organization works with on an ongoing basis with youth homelessness and mental health.
"They chose us for the donation … based on the great work that the ladies (coordinators) do out of it and the help they're providing," said Kevin Dornian, McMann's outreach services program coordinator.
"It's really exciting for us. I love the fact that young adults who are going to be our future leaders are taking an invested interest in this kind of sector because homeless youth in Canada is a major problem and sometimes it's a hidden problem."
Student council member Zach Sumners said as a collective group it was important to donate the funds locally and with McMann helping Eagle Butte students recently, it was the outright choice.
"We want to bring awareness to that it's OK to be not OK," said Sumners.
"This Hats On! for Mental Health is just to bring awareness to that and showcase that there's help out there and that's why we appreciate McMann Youth Hub and that's why we chose them as the recipient of our auction."
Caitlyn McLean has been personally affected by mental health both in her family and among her peers at school and thinks it is important have awareness at the high school level.
"I think it's super important that Eagle Butte supported this because high school is a stressful time in everyones lives and it's just important to show Eagle Butte cares about your mental health and we're here to support you," she said.
Laturnas says "I believe I've seen students more willing to talk about mental health over the last few years than when I started my teaching career."
The school also participated in 'Let's Taco 'Bout Mental health on Monday where the council gave out taco chips and other food items to promote awareness.