Bow Islanders learn about scam awareness
Posted on May 14, 2019 by 40 Mile Commentator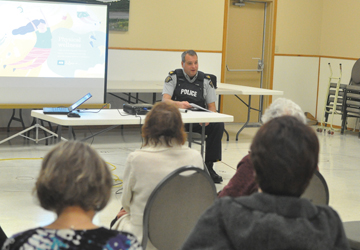 Commentator/CourierFile Photo Bow Island/Foremost Sgt. Neil Bailey has accepted a transfer to Lac La Biche for a Staff Sergeant position.
By Justin Seward
Commentator/Courier
Close to 20 people gathered at Bow Island's Golden Age Centre to learn about scam awareness tips from the RCMP and ATB Financial on May 8.
Bow Island RCMP Staff Sgt. Neil Bailey began the evening by talking about common scam calls that are commonly encountered.
"Never send money to somebody you don't know or trust," said Bailey.
Scams include:
– Lottery and sweepstake scams where an unknown caller says you've won something but you've got to pay a tax or fee to collect your winnings.
-Pyramid schemes- a promise of a large financial return at a small cost.
-Money transfer requests- people approaching you about transferring money is a scam.
-Internet scams- shopping online, online auctions, being cautious of not being overchargeds and being aware of return policies
– Mobile phones- get rid of unwanted text messages as they're scams.
-Health and medical scams: magic pills, no miracle cures and weight loss. Don't commit to anything when you're under pressure
-Emergency scams- targeting grandparents and scammer phones and for example the scammer says 'Hi Grandma, I'm in jail in Calgary and I need $2,000 to get out. Can you send it?' Bailey says often grandparents will.
-Dating and romance: scammers setting up fake websites to build a relationship with user.
-Charity scams: scammers collecting money for certain charities
-Job and employment- Working from home making $500 a day and in reality no one makes that
"It's just the education," said Bailey.
"We have in recent years been getting an increase of fraudulent calls where people in the community have been victims of fraud… Don't send any money, give personal information and don't give credit card number."
"If you're unsure about, contact a relative, the police (or) somebody that just knows.
In recent months the scam rate has gone down, but there was a period of time back in the fall where there were quite a few fraud calls, he added.