County to do work on track resurfacing project
Posted on May 14, 2019 by 40 Mile Commentator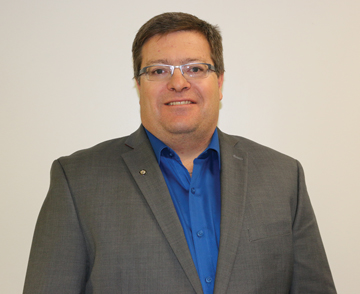 Steve Wikkerink
Justin Seward
Commentator/Courier
County of Forty Mile Council voted in favour of helping with the resurfacing project at Senator GershawSchool's running track during their May 8 meeting.
The county's public work staff will be doing in kind work on the track by stripping the old shale off the site and taking out the old back stop.
"He (public works manager Wes Hollingsworth) figures we can do that in a day," said county Reeve Steve Wikkerink.
Wikkerink was uncertain as to when the county will be starting their part of the project because of the possible money commitment before their starting date.
"If they get that all in place in this summer, then I would suspect the county would go in sometime this summer and do that for them," he said.
Wikkerink says the resurfacing of the running track becomes an important vocal point, especially for the north half of the county.
"Now you can hold county events," said Wikkerink.
"I know Foremost has a pretty nice track as well. But this gives us a good quality track within the county and we can do multiple things together as a county.
"Up in the north area and with budget restraints, it's been hard to keep some of these recreation things right up to where the standard we'd like to be able to keep them at. This a high boost to start fresh with something like this and hopefully we're good for a lot of years to come."
For right now, council has committed to do in kind work and any further involvement will be determined as the work goes along.
Etzikom metering
Council voted in favour of a motion to make everything retroactive back to Dec. 31, 2018 for everything that has been paid for metering fees for the Etzikom Community Hall and the Windmill museum.
The Etzikom Community Hall and Windmill museum were paying a minimal flat fee for the minimal water usage. When the county went to a billing system, the hall and museum were a given a minimal charge, which resulted in a price increase of their hall.
" All those fees are waived," said Wikkerink of the other county community halls' fees.
"None of our other community halls, ice rinks (and) anything taken care of by our Ag society pay that fee. It's just something that somehow has been over looked over how many years."
2019 Gravel Crushing and Stockpiling
Hopkins Construction was awarded the 2019 Gravel Crushing and Stockpiling.
2019 Southern Alberta Women;'s Grazing School
Council voted to not contribute any money to the Warner hosted Southern Alberta Women's Grazing School for a bus to transport 40 ladies to the field sites around Milk River The school is July 16-17 in Milk River.
Wikkerink says the county has not contributed to similar events in the past and won't start now.
Canadian Badlands tourism marketing grant
Council voted to pass over the Canadian Badlands Tourism Marketing Grant to the 40 Mile Park committee and Our Last Resort for park event advertising.